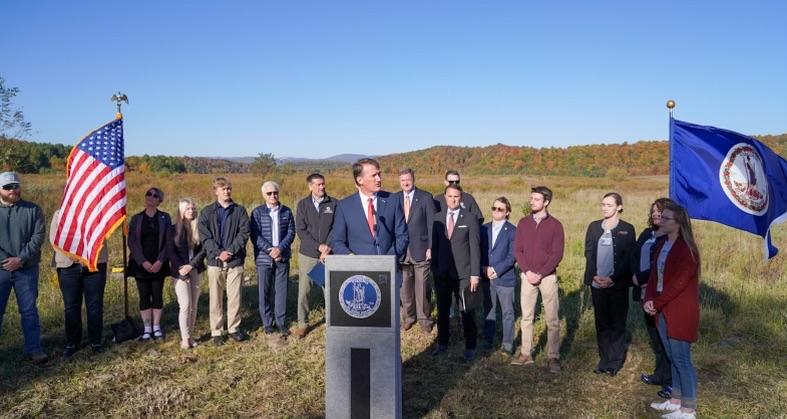 Some two weeks after unveiling his state's 2022 Energy Plan, Virginia Gov. Glenn Youngkin has announced his intention to include $10 million in the state's next budget proposal—due in December—to create the Virginia Power Innovation Fund for research and development of nuclear, hydrogen, carbon capture and utilization, and battery storage technologies.
Further, $5 million of that total, Youngkin said last Friday, will be dedicated to growing the state's nuclear energy industry by establishing a Virginia Nuclear Innovation Hub and deploying the nation's first small modular reactor in southwest Virginia within 10 years.
Youngkin made the announcement at a reclaimed mine site in the heart of southwest Virginia's coalfield region. According to a news release from the governor's office, the site is an example of a potential location for an SMR or other energy facility.
With a little help from my feds: The proposed state funding is part of an intergovernmental effort with Virginia's representatives on Capitol Hill to utilize state and federal resources to turn Virginia into a leading energy innovator.
In his remarks, Youngkin recognized one of those lawmakers, Rep. Morgan Griffith (R., Va.), for his efforts to bring resources included in the Abandoned Mine Land Economic Revitalization Program and other federal programs to Virginia. "Just this morning, Congressman Griffith and I announced $10.6 million in federal investments across coal country, including $2 million to the Energy Delta Lab," Youngkin said. "So by marshalling these state and federal resources, we will establish a Virginia Nuclear Innovation Hub that will bring together Virginia's nuclear stakeholders, bring together universities, corporate interests, and research dollars to develop new and emerging nuclear technologies right here in the commonwealth."
The mission of the hub, according to the release, will be to support innovation in advanced nuclear technologies by identifying technological needs, supporting research by Virginia's colleges and businesses, identifying nuclear workforce gaps, bolstering workforce training and education, and identifying supply chain gaps and filling those gaps with Virginia-made products.
The Virginia Nuclear Energy Consortium Authority (VNECA) will facilitate the hub and its activities to maximize their effectiveness, the release stated. Established by legislation in 2013, VNECA was created to make Virginia a leader in the nuclear energy industry. Under VNECA, the Virginia Nuclear Energy Consortium was formed to represent and bring together stakeholders across the nuclear industry, including state government, colleges and universities, nuclear energy companies, suppliers, and other organizations that support nuclear's advancement.