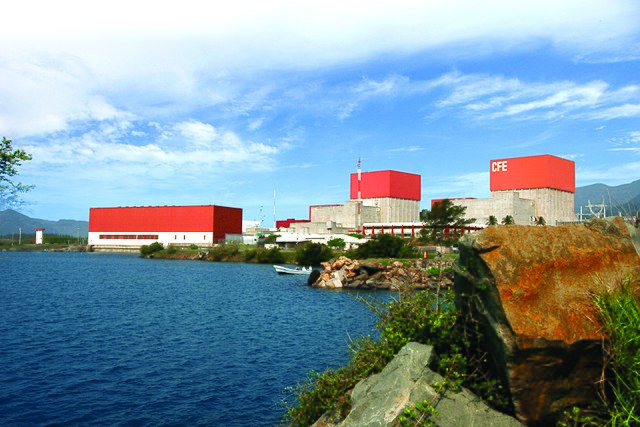 Unit 2 at Mexico's Laguna Verde nuclear plant has been given the go-ahead to operate into the 2050s, plant owner and operator Comisión Federal de Electricidad (CFE) announced last week.
Mexico's secretary of energy, Norma Rocío Nahle García, approved a 30-year extension to the unit's operating license on August 25, following a review by the country's National Commission for Nuclear Safety and Safeguards. The reactor, one of two at the plant, is now authorized to run until April 10, 2055.
"With this extension, the CFE remains at the forefront of clean energy production in the country and persists as the guarantor of the reliability of the National Electric System," CFE stated in its announcement, adding that the extension "is a source of national pride for the CFE, since it guarantees for the National Electric System the energy reliability that nuclear facilities offer for the benefit of the people of Mexico."
CFE began the license renewal process for both of Laguna Verde's units in 2015. Unit 1 was approved for 30 additional years in July 2020, allowing its operation to July 24, 2050.
The plant: Mexico's sole nuclear facility, Laguna Verde is located on the coast of the Gulf of Mexico in the state of Veracruz. Unit 1 is a General Electric–supplied 777-MWe BWR-5 boiling water reactor that began commercial operation in July 1990. The near-twin Unit 2, rated at 775 MWe, first came on line in April 1995.
In case you missed it: In late June, the International Atomic Energy Agency conducted a review of Laguna Verde's long-term operational safety. The IAEA's Safety Aspects of Long Term Operation team reviewed the plant's implementation of recommendations and suggestions made during a 2019 SALTO mission.
"The team observed that the operator is preparing the plant for safe LTO [long-term operation] in a timely manner," said team leader and IAEA nuclear safety officer Martin Marchena in an agency release. "Following the recommendations made by the SALTO team in 2019, the plant has made significant improvements in the area of aging management and has shown continued commitment to prepare for safe LTO. The SALTO team encourages the plant management to fully address the remaining findings from the 2019 SALTO mission and implement all activities for safe LTO."
According to the review, Laguna Verde's management has done the following:
Improved aging management of mechanical components, civil structures, and buildings.
Developed and implemented a comprehensive training program for aging management.
Improved the process for data management in support of long-term operation.
However, the SALTO review also noted that further action is necessary in some areas:
Performance of a comprehensive periodic safety review to identify potential safety improvements for LTO.
Full implementation of a program to confirm resistance of electrical components to harsh conditions—a so-called equipment qualification program.