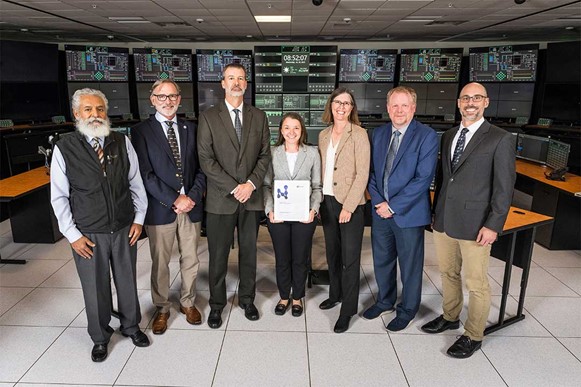 The Nuclear Regulatory Commission has accepted for formal review NuScale Power's standard design approval (SDA) application for its updated small modular reactor design, the Portland, Ore.–based firm announced yesterday.
The updated design—which is based on a VOYGR-6 (six-module) configuration powered by an uprated 77-MWe (250 MWt) power module—will "support a wider range of customers seeking clean energy through small modular nuclear reactors," according to the company. NuScale completed its submission of the SDA application on January 1 of this year.
Background: NuScale's original 50-MWe module design, based on a 12-module VOYGR plant, became the first SMR design to receive NRC approval when in August 2020 the agency announced it had issued a final safety evaluation report on the technology, completing the technical review and approval process. (The NuScale Power Module remains the only SMR design approved by the NRC.)
Two years later, in July 2022, the NRC voted unanimously to approve the design certification of the 50-MWe module, making it just the seventh reactor design to be thus certified. Previous designs passing NRC certification muster include General Electric's Advanced Boiling Water Reactor; Westinghouse Electric's System 80+, AP600, and AP1000; GE Hitachi Nuclear Energy's Economic Simplified Boiling Water Reactor; and Korea Electric Power Corporation's APR1400.
Official words: "We are pleased that the NRC has accepted our SDA application, which not only accomplishes one of our key milestones for 2023 but also brings us a step closer to providing clean, carbon-free energy to even more customers around the world," said NuScale president and chief executive officer John Hopkins. "Our team has worked closely with the NRC for many years—we're familiar with their process and are eager to work alongside them to achieve the successful approval of our uprated design. The NRC's rigorous standards are recognized and respected across the globe, and approval validates the acceptability of the safety of NuScale's carbon-free design."
Carrie Fosaaen, NuScale's vice president of regulatory affairs, added, "This standard design approval will allow our customers to benefit from an increased power output from the small modular reactor design that the NRC previously reviewed and approved. We will continue to work with the NRC on an expeditious, but thorough, review of the SDA application."