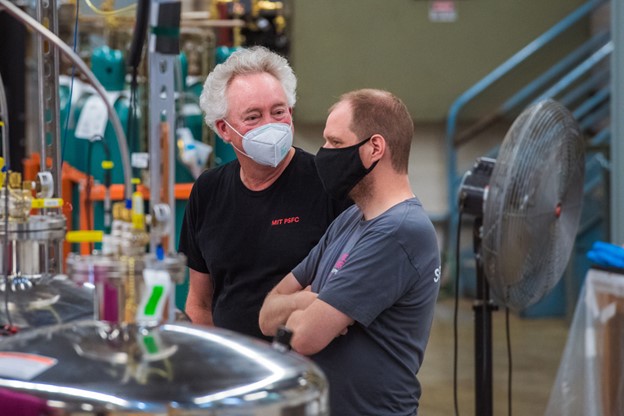 The Massachusetts Institute of Technology's Plasma Science and Fusion Center (PSFC) recently announced it will expand its involvement in fusion energy research and education under a new five-year agreement with Commonwealth Fusion Systems (CFS), a fusion energy company that got its start at MIT and is now building what it says will be the world's first net-energy fusion machine—the demo-scale SPARC.
"CFS will build SPARC and develop a commercial fusion product, while MIT PSFC will focus on its core mission of cutting-edge research and education," said PSFC director Dennis Whyte in describing the collaboration.
Leveraging support: The new agreement is administered by the MIT Energy Initiative (MITEI), which includes CFS among its start-up members and is intended to help the PSFC bring its fusion technology to the commercial sector as soon as possible.
According to MITEI director Robert Armstrong, "Our goal from the beginning was to create a membership model that would allow start-ups who have specific research challenges to leverage the MITEI ecosystem, including MIT faculty, students, and other MITEI members."
Collaboration between the PSFC and CFS has already resulted in advances, including last fall's demonstration of a high-temperature superconducting fusion electromagnet with a field strength of 20 tesla. The new agreement doubles CFS's financial commitment to the PSFC with funds that will enable recruitment and support of students, staff, and faculty.
"We'll significantly increase the number of graduate students and postdocs, and just as important, they will be working on a more diverse set of fusion science and technology topics," Whyte said.
The spark behind SPARC: The concepts behind SPARC and its anticipated successor, ARC—a compact, modular, high-field fusion power plant—originated in Whyte's nuclear science and engineering class (Principles of Fusion Engineering) and have been further developed by students and PSFC staff, many of whom helped found CFS.
"This has been an incredibly effective collaboration that has resulted in a major breakthrough for commercial fusion with the successful demonstration of revolutionary fusion magnet technology that will enable the world's first commercially relevant net-energy fusion device, SPARC, currently under construction," said Bob Mumgaard, who is chief executive officer of CFS and an MIT alum. "We look forward to this next phase in the collaboration with MIT as we tackle the critical research challenges ahead for the next steps toward fusion power plant development."
Work ahead: Commercial fusion energy is the goal, and getting there will require intensive work on materials longevity, heat transfer, fuel recycling, maintenance, and other crucial aspects of power plant development.
The ambition goes beyond building a prototype. According to MIT, climate change and the need for more carbon-free energy have led the PSFC to an emphasis on scalability. "Building one or ten fusion plants doesn't make a difference—we have to build thousands," said Whyte.
New leadership: MIT announced a new leadership team for the PSFC on May 6, the same day the new five-year agreement between the PSFC and CFS was announced. Joining Whyte as leaders in the PSFC are Nuno Loureiro, a professor of nuclear science and engineering and physics, who will become deputy director; Michael Short, an associate professor of nuclear science and engineering, who will become associate director; Earl Marmar, head of the PSFC Magnetic Fusion Energy (MFE) Division and physics senior scientist, who will continue in his role as associate director overseeing magnetic fusion energy experiments and take on other responsibilities; Jerry Hughes, a principal research scientist, who will become deputy MFE division head; and Zach Hartwig, the Robert N. Noyce Career Development Professor at MIT, who will head the PSFC Engineering Group.