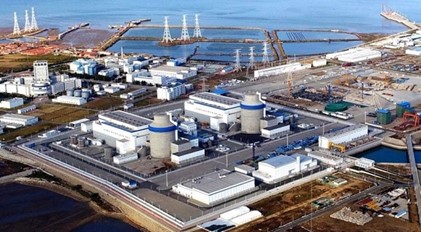 China's State Council recently approved the construction of four Westinghouse AP1000 reactors—two at China's Sanmen plant in Zhejiang Province and two at the Haiyang plant in Shandong Province.
The plants currently house two AP1000 units each. Sanmen's reactors are rated at 1,157 MWe and Haiyang's at 1,170 MWe. Sanmen-1 and -2 began commercial operation in 2018. Haiyang-1 started commercial operation in 2018, and Haiyang-2 in 2019.
What they're saying: "China and the United States are taking the leadership role as they each demonstrate that the AP1000's advanced nuclear technology is vital to achieving safe, clean, and reliable baseload electricity," stated Patrick Fragman, Westinghouse president and chief executive officer, in an April 26 news release. "Taking full advantage of the AP1000 plant's outstanding performance in the four existing operating units, and through our successful partnership with State Power Investment Company in China, we expect to achieve an AP1000 plant nth-of-a-kind project with the construction cost and schedule of these next four units, validating the recent Massachusetts Institute of Technology report conclusions regarding the attractive cost and schedule for future AP1000 units."
But wait, there's more: In addition to the four Westinghouse units, the State Council has given the go-ahead for the construction of Units 5 and 6 at the Lufeng site in Guangdong Province. In a Shenzhen Stock Exchange statement on April 21, China General Nuclear announced that Lufeng Units 5 and 6 would be Hualong One reactors.
While reactor construction at Lufeng has yet to commence, China's National Development and Reform Commission has reportedly okayed the construction of Units 1–4, which will be CAP1000s, the Chinese version of the AP1000. At this writing, however, the State Council has not given its approval.