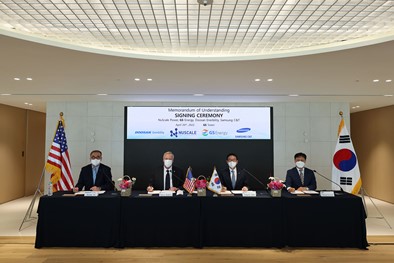 Small modular reactor developer NuScale Power has signed a memorandum of understanding with three South Korean companies—Doosan Enerbility Company, GS Energy Corporation, and Samsung C&T Corporation—to explore the deployment of NuScale's VOYGR power plants in Asia.
Under the MOU, the Korean companies will provide NuScale with financial support, in addition to their respective expertise in areas such as component manufacturing, nuclear construction, and power plant operation, according to the April 26 announcement from the Portland, Ore.–based company. Doosan is a nuclear pressure vessel manufacturer, GS Energy a power plant operator, and Samsung a nuclear power plant contractor.
Signers' language: "Today marks a significant milestone as we work to provide future customers with zero-carbon, reliable, and affordable energy from NuScale's SMRs," declared John Hopkins, president and chief executive officer of NuScale. "With the help of our valued investors, NuScale will launch the global community into a clean energy future within the next decade."
Yongsoo Huh, president and CEO of GS Energy, said, "NuScale is the leader in SMRs, with an unparalleled level of maturity in technology and design, and the Korean partners also bring their own excellence in the fields of manufacturing, construction, and operation of power plants."
Kiyong Na, CEO of Doosan Enerbility's nuclear business group, said, "This MOU will serve as a cornerstone of expanding SMR business in cooperation between NuScale and Korean strategic investors, and I expect the cooperation between Korea and the United States in the nuclear business will be strengthened through this MOU."
Byungsoo Lee, vice president of Samsung C&T, agreed, saying, "With this MOU, it is expected that there will be great progress in SMR business development through stronger cooperation between NuScale and Korean strategic investors."
In case you missed it: Under an agreement announcedon April 25, Doosan will begin the production of forging materials for NuScale's SMRs this year, with expectations for full-scale equipment manufacturing by the second half of 2023.
More specifically, Doosan will begin the production of forging dies for NuScale's upper reactor pressure vessel, marking the start of NuScale Power Module (NPM) production.
Doosan completed an NPM manufacturability review in January 2021, which, according to NuScale, successfully established the manufacturing sequence and processes for the modules. Doosan is now working on module component prototype development, NuScale said.