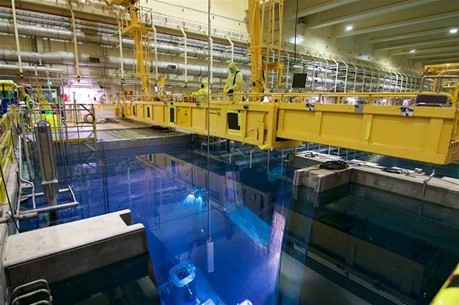 The last spent nuclear fuel elements from Idaho National Laboratory's Advanced Test Reactor (ATR) have been retrieved from a water-filled storage basin and transferred to a nearby dry-storage facility in accordance with a 1995 agreement with the State of Idaho, the Department of Energy's Office of Environmental Management (EM) announced this week.
The only spent fuel remaining in the largest storage basin in the DOE complex are fuel elements from Experimental Breeder Reactor-II, which are to be transferred to dry storage or processed at another INL facility by December 2023.
"I'm extremely proud of our team for accomplishing this task safely and compliantly," said Jay Schnelle, spent nuclear fuel shift operations manager for EM cleanup contractor Idaho Environmental Coalition.
Background: The ATR, a 250-megawatt test reactor operated by DOE contractor Battelle Energy Alliance, has been conducting experiments for customers since the late 1960s. It has also provided medical isotopes for the treatment of cancer and other diseases. In the past, the reactor's spent nuclear fuel was transferred to the Chemical Processing Plant (CPP)-666 storage basin for cooling and shielding. Spent nuclear fuel from the reactor now cools in its canal and is transferred directly to the CPP-603 dry-storage facility.
Consisting of six concrete pools lined with stainless steel and containing some 3 million gallons of water, the basin at CPP-666 is nearly empty. There are 1,193 bottles of EBR-II spent nuclear fuel remaining in the basin, which will eventually be drained of water and closed.
The EBR-II reactor operated at the former Argonne National Laboratory—West, now the Materials and Fuels Complex, from 1964 to 1994. The reactor generated power for the INL site and provided reactor research benefits. Spent fuel from EBR-II was transferred to wet storage at CPP-666 from 1986 to 1999.
1995 agreement: The 1995 Idaho Settlement Agreement, signed by the DOE, the State of Idaho, and the U.S. Navy, provides timelines for off-site transuranic waste shipments, the transfer of spent nuclear fuel from wet to dry storage, and the treatment and shipment of high-level radioactive waste.
Under that landmark agreement, the next remaining milestone after the December 2023 spent nuclear fuel wet-to-dry deadline is to have the spent nuclear fuel "road ready" to leave the state for interim storage or sent to a national geologic repository. That scope must be completed by 2035.