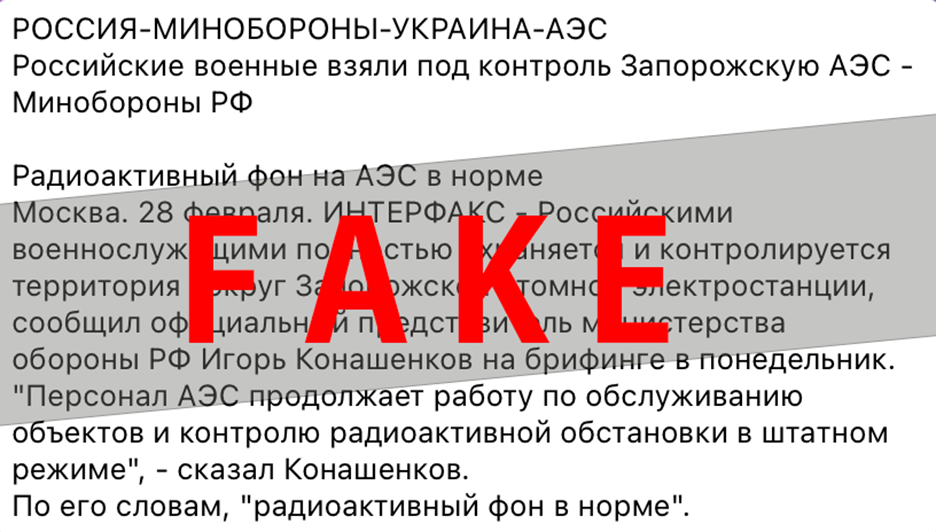 Denying a Russian claim of control of the Zaporizhzhia nuclear power plant, Energoatom earlier today declared that "Russian propaganda media reports that the invaders allegedly took control of the Zaporizhzhia NPP are a cynical fake." According to Energoatom, all four of its nuclear power plants are under the control of Ukraine and are operating normally with enhanced defenses.
Zaporizhzhia is Ukraine's largest nuclear power plant, with six operating reactors each rated at 1,000 MWe. It is also Europe's largest nuclear power plant and Ukraine's largest electricity-generating asset.
News reports on February 26 indicated that an adviser to Ukraine's interior minister had said that Russian troops were approaching Zaporizhzhia and have aimed their rockets at the site. Zaporizhzhia is Ukraine's southernmost nuclear power plant site and the site closest to the Russian-controlled territory in Crimea and the eastern Ukrainian provinces of Donetsk and Luhansk.
Power operations continue: A statement on the website for the Zaporizhzhia plant indicates at as of 5 p.m. local time, the plant was continuing to operate "normally." The statement added, "The physical protection service of Zaporizhzhya NPP operates on a full-time basis. Military unit 3042, which guards the Zaporizhzhya NPP, is in combat readiness."
In a separate statement issued earlier on February 28, Energoatom said, "Ukraine's nuclear power plants are operating stably with nine reactors in operation: three at Zaporizhzhia, two at South Ukraine, one at Khmelnytskyi, and three at Rivne." The other six units were in scheduled repairs or in reserve, according to Energoatom.
What Russia said: While the headline of an English language press release on the website of a Russian news agency claims "control" of the plant, the release itself quotes a representative of the Russian Defense Ministry as saying, "Russian servicemen are guarding and controlling the area around the Zaporozhskaya nuclear power plant."
No word from the IAEA on Zaporizhzhia: The International Atomic Energy Agency, which was silent on the situation in Ukraine until February 25, the second day of the invasion and war, has issued updates each day since then. At this writing, the IAEA has yet to issue an update for February 28.
Previous updates have included details about military engagement in the vicinity of the nuclear installations. Most recently, on February 27, the IAEA announced, "Ukraine informed the International Atomic Energy Agency today that missiles hit the site of a radioactive waste disposal facility in Kyiv overnight but there were no reports of damage to the building or any indications of a radioactive release."
That incident followed damage the day before to an electrical transformer at a disposal facility near the northeastern city of Kharkiv. "Such facilities typically hold disused radioactive sources and other low-level waste from hospitals and industry," the IAEA said.
"These two incidents highlight the very real risk that facilities with radioactive material will suffer damage during the conflict, with potentially severe consequences for human health and the environment," said IAEA director general Rafael Mariano Grossi. "Once again, I urgently and strongly appeal to all parties to refrain from any military or other action that could threaten the safety and security of these facilities."