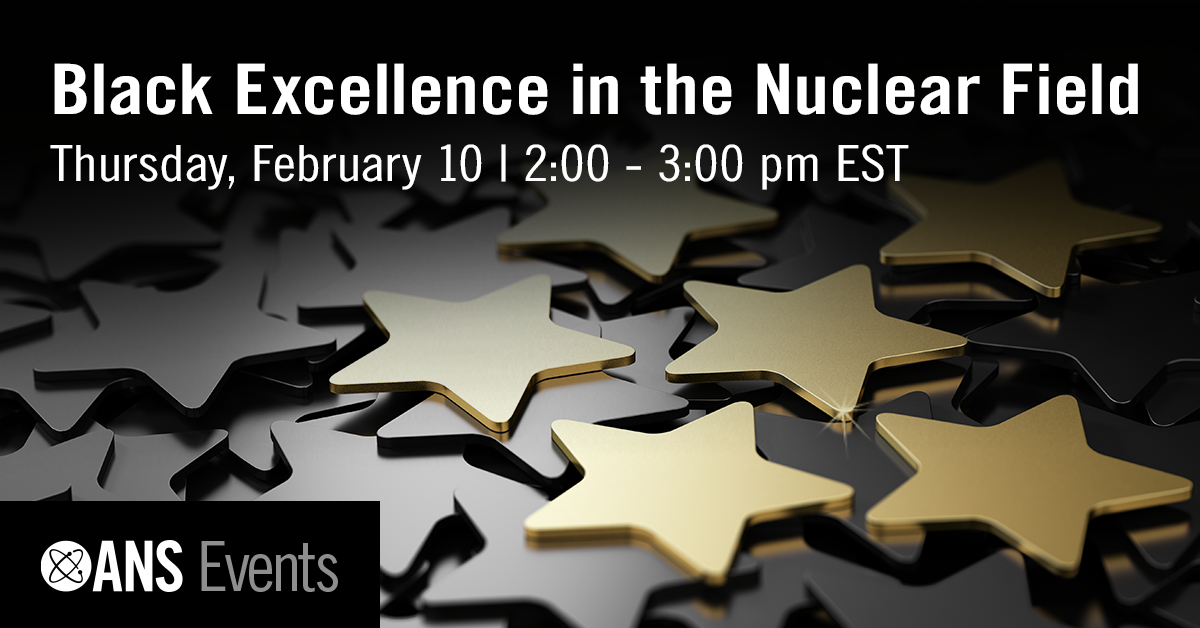 The American Nuclear Society will host a one-hour webinar this Thursday, February 10, at 2:00 p.m. EST, celebrating "Black Excellence in the Nuclear Field." The free webinar will be moderated by Lisa Marshall of North Carolina State University and will feature former U.S. assistant secretary for nuclear energy Warren "Pete" Miller, X-energy's Jeff Harper, Idaho National Laboratory's J'Tia Hart, and Booz Allen Hamilton's Christina Leggett.
Attention deserved: The webinar will highlight the significant contributions of the Black community to the nuclear field that have not always been given the attention of the wider nuclear community. Marshall explained that her goal as the moderator is to prompt the panelists to discuss their personal experiences, saying, "Life stories always provide an entry point into conversation. We want to hear about their approaches to challenges and their success strategies."
Untapped resource, increasing diversity: During the webinar, panelists will also examine what future opportunities lie ahead for the Black community in the nuclear field. Nationwide in nearly every sector, the current labor market is the tightest it has ever been, with millions of job openings and not enough qualified people to fill those positions. Expanding the pipeline of qualified candidates is essential if the nuclear community wants to meet its goals of deploying small modular and advanced reactors by 2030. Investing in underrepresented communities is a must for the STEM fields. Marshall is excited to hear the panelists' takes on the future for the Black community in nuclear. She wants to explore how to increase participation of the Black community in nuclear through organizational and individual actions. "Increasing diversity in the field is about authentic and consistent relationship building," Marshall said. "The engagement starts with understanding each other, mentorship, and advocacy."
Advice to students: "I say this to my students now—'You've got this,'" Marshall explained. "Investigate the opportunities and match it to what you want out of life, explore your 'why,' and put in the work. Lifelong learning is a must to keep your competitive edge. Don't skip the foundational work, and celebrate the wins."
The webinar is open to the public, but attendees must register in advance at https://www.ans.org/webinars/view-021022/. If you cannot attend live on Thursday, you can watch the recording later by visiting the ANS webinar archive.