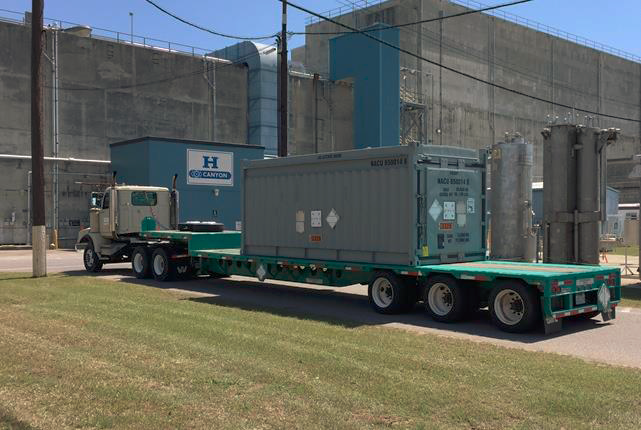 The Department of Energy announced yesterday that Secretary of Energy Achievement Awards were presented to a team of Savannah River Site employees for the completion of the multiyear Target Residue Material (TRM) campaign to support global nuclear security goals.
SRS is a 310-square-mile site located in South Carolina. It encompasses parts of Aiken, Barnwell, and Allendale counties and is bordered on the west by the Savannah River and the state of Georgia.
The campaign: The TRM project, completed in 2020, involved transporting high-enriched uranium from the Chalk River Laboratories in Canada to SRS's H Canyon for processing. According to the DOE, the project marked the first time that irradiated liquid HEU has been shipped internationally to the United States.
The project involved more than a dozen organizations in Canada and the U.S., including multiple federal, state, and tribal partners, and 115 truck shipments that covered almost 150,000 miles.
The SRS team worked with Canadian partners to package and transport the TRM. The effort has advanced U.S. and global goals on nuclear security and has contributed to a significant reduction in worldwide HEU holdings, according to the DOE.
A second project: In addition to the TRM employees, workers from the Navy's W76-2 Modification Team, supporting the nation's nuclear deterrent, were honored by the DOE for their "relentless dedication" in developing a modification to an existing program, according to the DOE.
The awards: The Secretary of Energy Achievement Awards honor groups of DOE employees and contractors that accomplish significant achievements on behalf of the DOE, demonstrating cooperation and teamwork in attaining their goals.
Quotes: During a virtual award ceremony held on January 11, energy secretary Jennifer Granholm congratulated the employees. "Not only did these awardees get the job done," she said, "they did it as a team. It is a privilege to call you colleagues."
Jill Hruby, undersecretary for nuclear security and administrator of the National Nuclear Security Administration, added, "I am awed by the collective contributions to the department and our nation, and I can't thank all of you enough for your dedication and your teamwork."