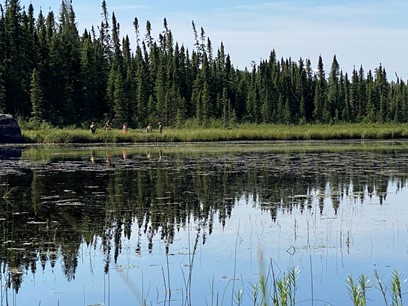 Canada's Nuclear Waste Management Organization (NWMO) is working with the University of Guelph to launch a joint environmental DNA (eDNA) research program to further understand biodiversity conditions around two potential sites in Ontario for a deep geological repository for spent nuclear fuel.
The NWMO, Canada's not-for-profit organization tasked with the long-term storage of the country's spent nuclear fuel, is currently focusing on Ontario's Ignace area and South Bruce as potential hosts for the repository.
The data: As part of the eDNA program, researchers from the University of Guelph's Hanner Lab, alongside the NWMO's environmental scientists, will collect and analyze water samples to learn about aquatic species from surrounding areas. eDNA is a noninvasive technology that can detect what species are present by looking at DNA that is naturally shed by animals.
To monitor for seasonal changes, eDNA sampling will take place at different times of the year when different species are most active. Work has started in the Ignace area and is expected to begin in South Bruce in 2022. This is the largest eDNA project to date for the University of Guelph's Hanner Lab, according to the NWMO.
The data collected will inform the NWMO's ongoing environmental baseline monitoring program and establish the baseline conditions of the ecosystems.
The importance: The NWMO said that the research program was co-designed with local communities, conservation authorities, and experts through a series of workshops to ensure that the organization is monitoring what local residents consider important, and is consistent with best and emerging practices. Once data collection is completed, the results will be released to the respective communities to guide informed decision-making.
"We heard very clearly from communities that trustworthy and transparent data collection, interpretation, and reporting were critical to the success of the NWMO's environmental baseline monitoring program," said Melissa Mayhew, senior environmental scientist at the NWMO. "Establishing partnerships with respected institutions like the University of Guelph is one way we are delivering on this."
The scope: The environmental baseline monitoring program encompasses environmental features such as surface water, shallow groundwater, air, soil, farm products, and plants and animals and their habitats around the potential repository site and the surrounding region. This work will contribute to the NWMO's eventual impact assessment process, which will begin once a single preferred location for a deep geological repository is selected.
"Environmental protection begins with collecting and interpreting data so we can understand what biodiversity is present at potential repository sites and the health of those species," Mayhew said. "Using eDNA technology will complement our traditional research programs and will help us identify species that are harder to detect."