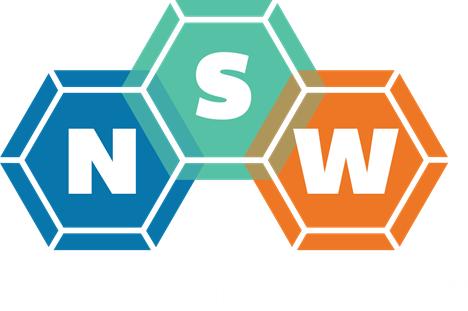 It's the third week of October, and Nuclear Science Week, first recognized in 2009, has arrived! Nuclear Science Week is an annual opportunity to celebrate nuclear science; recognize the professionals who apply it to solving the world's most pressing problems; encourage nuclear professional development and networking; and share information with students, educators, and community members about the vital role of nuclear science in the lives of all people.
Organizations and communities around the world are celebrating Nuclear Science Week with in-person and virtual events, and ANS is no exception. Read on for details, and follow ANS on Facebook, Twitter, LinkedIn, and Instagram to keep up with #NuclearSciWeek.
Informative webinars: ANS has three virtual events scheduled during Nuclear Science Week, starting with "Next Generation Nuclear I&C Strategies Lunch and Learn" on Tuesday, October 19, at 12:00 EDT.
Be ready to hear directly from the 2021 ANS Student Conference Pitch Your Research winner, Haozheng Qu, on Wednesday, October 20, at 1:00 pm EDT, as he shares highlights the from his materials science research as a PhD student in the Department of Materials Engineering at Purdue University. Register now.
On Thursday, October 21, ANS is offering a webinar that explores the entire nuclear fuel cycle 1:00 pm EDT. Register now for "Beyond Reactors: Understanding the Nuclear Fuel Cycle."

Navigating Nuclear for the K-12 community: ANS's Navigating Nuclear curriculum now includes activities for all grade levels that are easy to share with schools and families in your community. Developed by ANS and Discovery Education in partnership with the Department of Energy's Office of Nuclear Energy, Navigating Nuclear has been inspiring students since 2018.
If you haven't seen Navigating Nuclear's Virtual Field Trips, you're in for a treat. Students can go behind the scenes to tour the largest nuclear power plant in the United States, explore Idaho National Laboratory and meet some of the people discovering solutions to our energy challenges, or travel into deep space to imagine how humans might live on the moon, Mars, or beyond. Visit ans.org/navigatingnuclear to explore and share these valuable resources.
Check out programs from INL: In honor of Nuclear Science Week, Idaho National Laboratory has planned several activities to recognize those who work in this field every day and inspire the next generation of scientists and engineers. Visit inl.gov/nuclear-science-week-2021/ for the full lineup of local and virtual opportunities, including live virtual tours of the laboratory, and view fascinating bios and video clips featuring INL researchers.
Save on ANS merchandise: Now is your chance to save 25 percent on books, publications, apparel, and more at the ANS Store with promo code "science2021." Members save an additional 10 percent, for 35 percent total savings. The sale ends Friday, October 22.