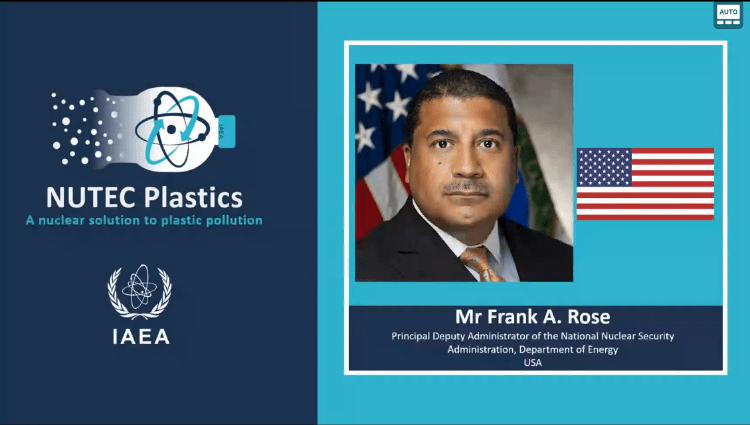 The fight against plastics pollution using nuclear technology will be bolstered by a $1 million contribution from the Department of Energy's National Nuclear Security Administration to the International Atomic Energy Agency.
Frank Rose, the NNSA's principal deputy administrator, announced the contribution during the IAEA's NUclear TEChnology for Controlling Plastic Pollution (NUTEC Plastics) virtual roundtable meeting for the Americas and the Caribbean, held earlier this month.
"NNSA is supporting projects that focus on the use of electron beam technology to advance plastic recycling," Rose said. "We see this as a mutually beneficial opportunity–a way to enhance radiological security and to reduce plastic pollution."
The problem & a fix: The problem has been described as one the most pressing global environmental challenges and a direct threat to sustainable development.
NUTEC Plastics supports research on using electron beam technology to address plastics in the ocean. In addition, the NNSA noted in a statement through its Office of Radiological Security that the use of non-radioisotopic alternative technologies is encouraged to permanently reduce the security risks posed by high-activity radiological sources.
Electron beam technology, which relies on electricity rather than radioisotopes to generate radiation, could improve current plastic recycling processes and break the particles down, keeping them out of the food chain, according to the NNSA.
"If irradiation can indeed be used to recycle plastics safely, efficiently, and effectively, NUTEC Plastics would be a very strong demonstration of the benefits of peaceful uses of nuclear technology," Rose said.
Climate change: Rose also touched on climate change during his remarks. "It has gone from being a single issue concerning our environment to now affecting the advancement of societies and survival of people around the world," Rose said. "Secretary of Energy Granholm strongly believes the way to effectively combat climate change requires global adoption and application of innovative nuclear science and technology."