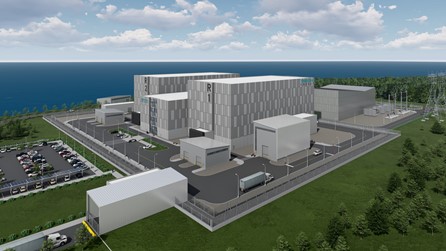 Terrestrial Energy has upgraded the design of its Integral Molten Salt Reactor (IMSR) nuclear power plant, the company announced on September 14. The proposed facility will now feature 390 MWe of generation capacity for grid supply from twin reactors and generators.
"With our upgraded IMSR400 Generation IV nuclear power plant, Terrestrial Energy is raising the bar for innovative carbon-free technology in terms of cost-competitiveness, resilience, and scalability," said Simon Irish, the company's chief executive officer. "The IMSR400 has the efficiency, economics, and flexibility to play a major role in the clean energy transition, including the production of clean hydrogen at industrial scale."
Up for a role at Darlington: The company's 195-MWe IMSR400 is one of three small modular reactor designs (the other two being GE Hitachi's 300-MWe BWRX-300 and X-energy's 75-MWe Xe-100) currently under consideration for deployment at Ontario Power Generation's Darlington nuclear generating station in the late 2020s. OPG is expected to make its final pick later this year.
A Terrestrial extra: According to Terrestrial, based in Ontario, Canada, the IMSR400 is the only Generation IV SMR designed to use nuclear fuel at standard enrichment, which, the company says, "avoids the considerable cost and time of re-licensing uranium enrichment plants and removes hurdles to commercialization, hastening deployment."
On August 17, Terrestrial announced an agreement with Westinghouse and the United Kingdom's National Nuclear Laboratory to provide the IMSR's nuclear fuel supply, the first such agreement for a Generation IV SMR.