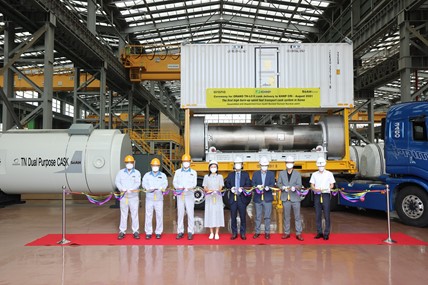 Orano has delivered its first TN-LC spent nuclear fuel transport cask to Korea Hydro and Nuclear Power Company. The first use of the cask is planned for an international transport between South Korea and Sweden by the end of 2021.
KHNP received a license in June for the TN-LC transport cask from the Nuclear Safety and Security Commission, South Korea's regulatory agency, for the transport of high-burnup spent fuel.
Multi-modal transport: The TN-LC cask is intended to be used to transport spent fuel between KHNP sites but will also be used for global transport services under the TN-LC's international licenses in the United States and other countries.
According to Orano, the use of advanced lightweight materials in the cask's construction enables it to be an efficient multi-modal transport cask while ensuring compliance for operations with primary nuclear energy facilities and research reactors around the world. The TN-LC cask is designed for both wet and dry used fuel loading procedures.
He said it: Han-gon Kim, president of the KHNP Central Research Institute, said, "KHNP is very pleased to receive this TN-LC through a good partnership with Orano. TN-LC will be utilized for safe transportation of the KHNP used fuel and newly developed fuel."