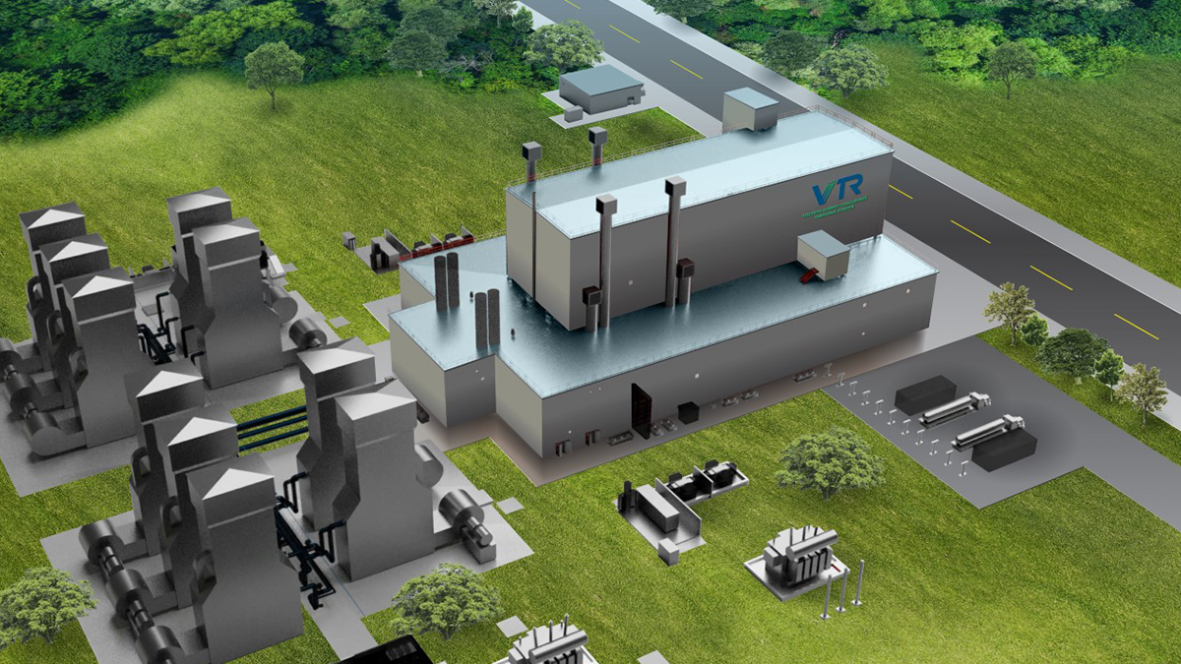 The Department of Energy announced in 2020 its approval of Critical Decision 1 for the Versatile Test Reactor (VTR) project, a one-of-a-kind scientific user facility that would support research and development of innovative nuclear energy and other technologies. The decision was well received by the nuclear energy community—after all, the DOE's Nuclear Energy Advisory Committee had studied and reported on the need for the VTR and found strong support for the project among reactor developers, federal agencies and national laboratories, and university researchers.
A common resolve to use fission technologies
A new age of fission technology is upon us. Rejuvenated by public-private agreements to develop and commercialize new reactor systems and resolved by the challenges posed by crises and loss of human life due to climate change, there is a shared commitment to using nuclear technologies for the betterment of humanity. The challenges and threats to our planet, people, and prosperity have established a common bond among environmentalists, humanists, and nuclear technology developers to use nuclear energy to solve the problems we face together.
Decisive approaches are required for addressing the challenges of innovation and commercializing advanced nuclear technology, and unfortunately it must include addressing misconceptions that are frequently repeated while ignoring basic project facts. Among recent nuclear energy initiatives, the VTR has been particularly targeted with misinformation, so it is important to focus on the facts.
The VTR is being designed to operate for 60 years and will support an overall nuclear energy technology transition, not just the first handful of advanced reactor demonstrations. In fact, some advanced reactor demonstrations may be on line before the VTR—and that's okay! The VTR will enable continuous improvements and innovation for decades to come, just as thermal spectrum test reactors have provided decades of support to innovation in light water reactors. Continuous technology evolution works in harmony with commercialization—otherwise your mobile phone today would look the same as a 1990s phone.
As the American Nuclear Society noted in its landmark report, The U.S. Nuclear R&D Imperative, by giving researchers the ability to test and qualify new fuels and materials, "The VTR will help reestablish U.S. global leadership in nuclear energy R&D while attracting potential collaborations, investments, and personnel from international research partners."
The VTR and TerraPower's Natrium reactor have similar designs but different missions. Kathryn Huff, acting assistant secretary for nuclear energy for the DOE, recently explained why we need both demonstration and test reactors to realize nuclear innovation. Simply stated, test reactors optimize neutron production for fuels and materials qualification, while demonstration reactors optimize electricity production for energy services. Excelling at both missions in the same facility is not feasible due to stark differences in design and operational requirements.
Recognizing the incompatibility of these missions, Russia—the main U.S. competitor in nuclear energy—is proceeding with building a new fast spectrum test reactor while simultaneously deploying multiple fast spectrum demonstration reactors. The need for a U.S. fast neutron testing capability is why TerraPower supports the VTR in parallel with bringing its Natrium reactor on line: "Developing such a testing capability in the U.S. is critical for the long-term success of fast reactors, helping to reduce capital, operating, and life cycle costs."
VTR supports researchers now—and into the future
Research opportunities are available today for current graduate students, who are designing facilities and advanced devices for the VTR. Generations of future researchers and others will use these facilities and devices to perform experiments over the 60-year operating life of the VTR. The VTR currently has 18 university partners and will serve as a user facility, meaning that it will be open to all interested potential users based on a merit review of the proposed research.
Today's graduate students will move on to successful careers, but they will always have access to the VTR as an essential research tool. That's why the VTR has the strong support of researchers across the nuclear community.
Looking at the horizon
William Magwood IV, director general of the Nuclear Energy Agency in Paris and a former member of the U.S Nuclear Regulatory Commission, recently said it best: "One thing that I think has been missing from a lot of discussion of technology these days is that we have stopped looking over the horizon. We've stopped looking at the long-term future and infrastructure. The VTR is a very important signal that we do think about the world beyond five or 10 years from now. We're looking at the horizon."
The DOE's $145 million funding request for fiscal year 2022 puts the VTR on a success path for ensuring that all U.S. vendors, national laboratories, and universities have access to a fast spectrum testing capability. The clean energy innovation community is united in hoping that Congress will deliver a final FY 2022 budget that supports the establishment of this critical nuclear energy R&D tool as authorized by the Energy Act of 2020.
Jordi Roglans-Ribas is the director of the Nuclear Science and Engineering Division at Argonne National Laboratory. He serves as acting project manager for the Versatile Test Reactor project.