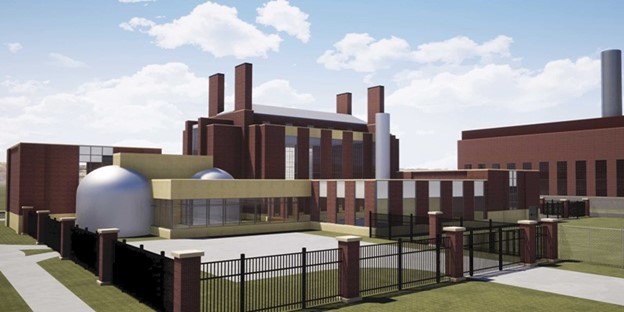 A bipartisan group of legislators has introduced a bill to invest in university nuclear science and engineering infrastructure, establish regional consortia to promote collaboration with industry and national laboratories, and support the development of advanced reactor technology. The National Nuclear University Research Infrastructure Reinvestment Act of 2021 (H.R. 4819) was introduced in the House of Representatives by Reps. Anthony Gonzalez (R., Ohio), Sean Casten (D., Ill.), Peter Meijer (R., Mich.), and Bill Foster (D., Ill).
In an August 2 press release, Gonzalez stated, "As our country shifts toward a 21st-century grid, nuclear science and engineering programs will play a key role in advancing the next generation of reactors and developing a diverse workforce to operate them. I am excited to introduce this bipartisan bill that will support our young scientists and engineers, advance the research and development of advanced nuclear technologies, and restore U.S. leadership in nuclear energy."
In brief: In addition to funding upgrades to existing infrastructure and establishing regional or subregional consortia, the bill would require the Department of Energy to create a new program to deploy "no more than four new research reactors" at U.S. universities. That program would focus on demonstrating advanced and micronuclear reactor concepts, medical isotope production reactors, and other critical research infrastructure.
"To attract and educate a more diverse workforce, those facilities would be constructed as a partnership between the host university and collaborating universities—including historically black colleges and universities, minority-serving institutions, and community colleges," the press release stated.
In focus: "Nuclear energy plays a critical role in our energy future and must be a component of any discussion surrounding how we respond to climate change," Meijer said. "It is imperative that we invest in and empower the best and brightest of the next generation to ensure we have a workforce that is equipped to lead the world in the nuclear industry."
Full text made available through a link on Meijer's website indicates that, as introduced, the bill would authorize total funding of $55 million per year for five years, beginning in fiscal year 2022, for two efforts intended to enhance existing support for university nuclear programs: upgrading existing infrastructure in support of advanced nuclear technologies and applications, and creating regional or subregional university-led consortia to broaden access to university research reactors and provide project management and technical, engineering, manufacturing, and nuclear material support.
The DOE would be tasked with creating an Advanced Nuclear Research Infrastructure Enhancement Subprogram to (1) demonstrate various advanced nuclear reactor and nuclear microreactor concepts, (2) establish medical isotope production reactors or other specialized applications, and (3) advance other research infrastructure. The subprogram would receive substantial funding in fiscal years 2022–2029, beginning with $10 million in 2022 and increasing to $140 million by 2027.
ANS members welcome the bill: Todd Allen, a professor at the University of Michigan, and Raymond Cao, a professor and director of the nuclear engineering program at Ohio State University, also voiced strong support for the measures in the bill.
"The Nuclear Engineering Department Heads Organization and the National Organization of Test, Research, and Training Reactors strongly support the introduction of H.R. 4819—the National Nuclear University Research Infrastructure Reinvestment Act of 2021," Allen said. "At a time when a next generation of nuclear energy is needed to meet the nation's clean energy and jobs goals, revitalizing the nation's university-based research and educational infrastructure is critical to deploying advanced nuclear technology, advancing the probability of deployment, and attracting the nation's best minds."
Cao said, "The Ohio State University operates the only research reactor in the state of Ohio, and this bill will help us expand our research capabilities to meet the demands of advanced nuclear energy systems and support the workforce needs critical to maintaining U.S. leadership in nuclear science and engineering."
Support from Illinois: Illinois is the nation's top nuclear power state with 11 operating reactors, and its flagship public university, the University of Illinois at Urbana-Champaign, recently submitted a letter of intent to the Nuclear Regulatory Commission to apply for a license to construct a high-temperature gas-cooled microreactor designed by Ultra Safe Nuclear Corporation.
"Scientific research and development offers one of the highest return on investments our nation can get," Foster said. Illinois's 11th congressional district, which Foster represents, includes Argonne National Laboratory, and the congressman, who holds a Ph.D. in physics, was previously employed as a high-energy particle physicist at nearby Fermi National Accelerator Laboratory. "Advanced nuclear energy has the potential to be a key tool in meeting the country's decarbonization and net-zero clean energy goals, and it is critical to ensure that our universities have the research infrastructure support to be able to investigate these technologies fully," Foster said.
Casten's 6th congressional district shares a border with Foster's 11th district. "Nuclear science and engineering is vital to our country and is important for both energy and medical needs," Casten said. "I am proud to support a bipartisan bill that will create opportunities for a new generation of nuclear engineers and scientists while diversifying our nuclear workforce."