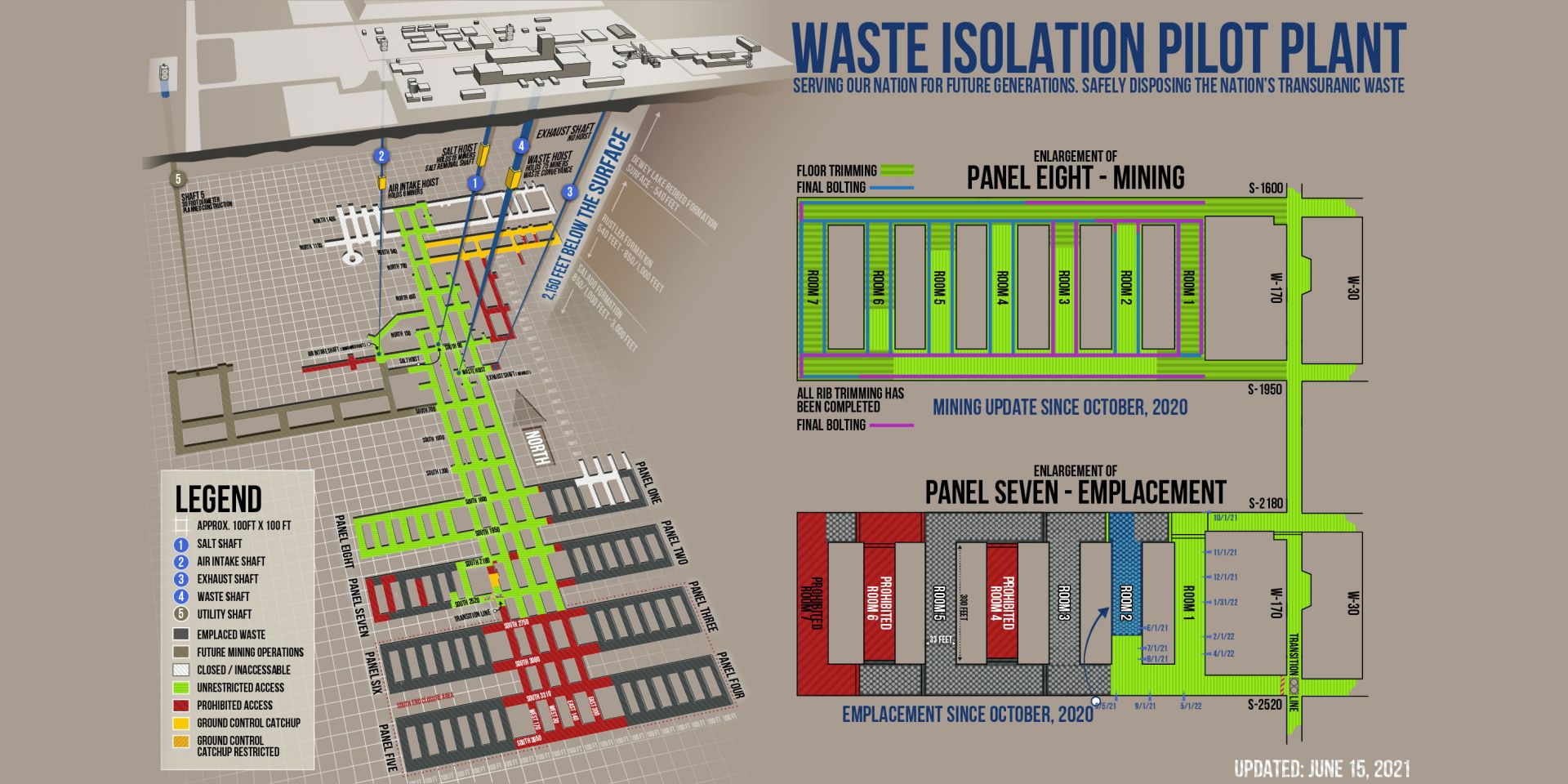 The amount of salt mined so far from Panel 8 at the Department of Energy's Waste Isolation Pilot Plant (WIPP) is a lot. The DOE's Office of Environmental Management (EM) compared the amount to the weight of more than 46,000 Ford F-150s, about 16,000 African bush elephants, nearly 510 Boeing 747s, two Titanics, or enough to coat the rims of 3.6 million margarita glasses.
Miners working 2,150 feet underground extract the salt using grinders called continuous miner machines to create space to place defense-related transuranic (TRU) waste.
With WIPP's Panel 8 scheduled for completion in a little more than half a year, crews recently crossed the 100,000-tons-mined threshold and, as of mid-June, are at 105,000 tons removed from the panel.
Digging down: Lowering the floor in WIPP's Panel 8 is the final piece of the mining. The panel consists of two passageways for air flow, with seven smaller, perpendicular rooms between them, making the layout look like a ladder, according to EM. Each room is 33 feet wide, 16 feet high, and 300 feet long, equivalent to a football field from goal line to goal line.
"It may seem counterintuitive to dig down to get more height, but it's the way we have traditionally created the panels," said WIPP mining manager David Sjomeling.
The continuous miner: Using laser devices for precise measurements, crews use the continuous miner machine to cut 8 to 10 tons of salt per minute, which is taken away by haul trucks to the salt hoist's collector. The collector lifts the salt to the surface where 40-ton haul trucks load it and then deposit it at an area north of WIPP.
Rough cut: The "rough cut" that creates the panel's outline is followed by a round of stabilizing the surfaces to slow salt movement, and then walls are cut to their final dimensions.
The rough cut's first pass is limited by the reach of the mining machine's rotating cutting head to about 9 feet. The second, finishing pass cuts from the floor, taking the floor-to-ceiling height from 9 to 16 feet.
The mining of Panel 8 is set to be finished in August. After that, the panel will be outfitted with power, lights, continuous air monitors, volatile organic compound monitors, mine phones, and bulkheads that control airflow. That work is tentatively slated to be done by February 2022.
"Just in time" mining: Panel 8 will be ready about two months before Panel 7 is filled and sealed. The DOE has planned it that way because salt "creeps," or moves, 2 to 4 inches per year and begins to close the excavated space.
Panel 7 has 1.5 rooms remaining to be filled with TRU waste. Once Panel 7 is full, scheduled for around May 2022, bulkheads will seal the panel, and waste emplacement will move to Panel 8.
About WIPP: WIPP was constructed for the disposal of TRU waste from DOE sites around the country. TRU waste consists of clothing, tools, rags, residues, debris, soil, and other items contaminated with small amounts of plutonium and other man-made radioactive elements.
WIPP, the nation's only deep geologic long-lived radioactive waste repository, is located 26 miles southeast of Carlsbad, N.M. Bedded salt is free of fresh flowing water, easily mined, impermeable, and geologically stable—an ideal medium for permanently isolating long-lived radioactive wastes from the environment, according to the DOE. Its most important quality in this application, the DOE added, is the way that salt seals all fractures and naturally closes all openings.