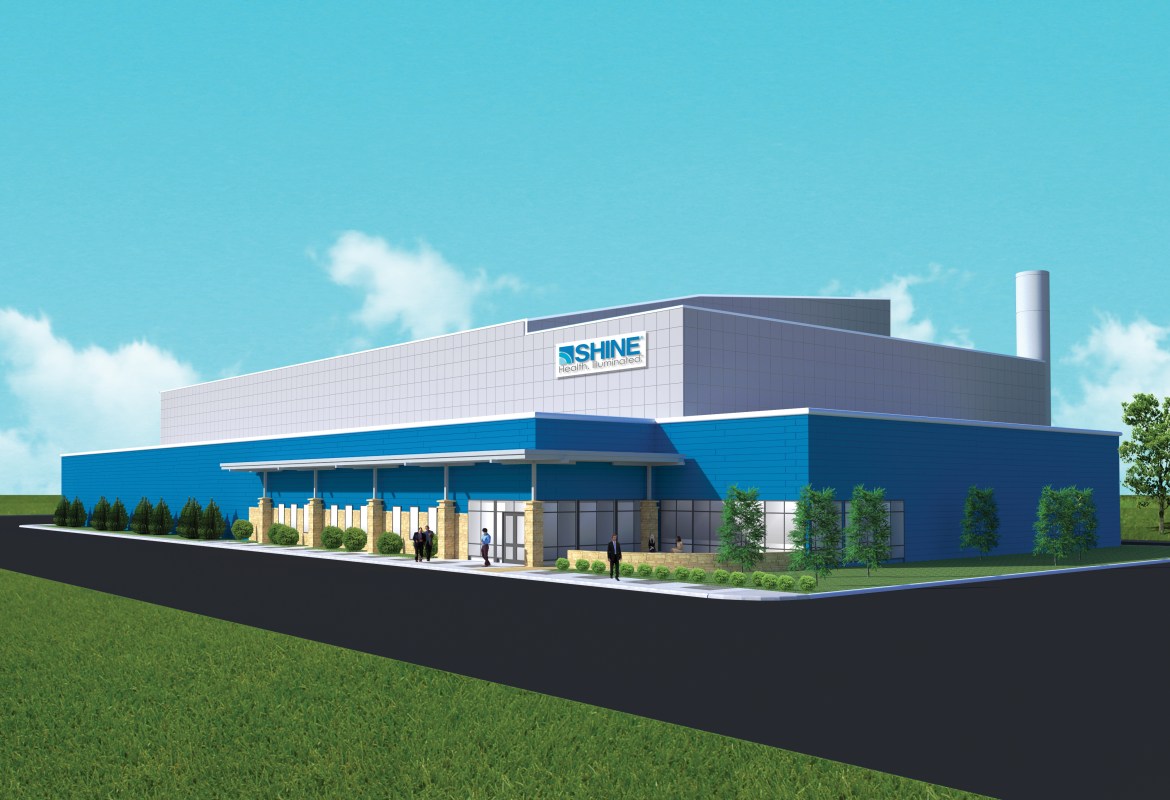 SHINE Medical Technologies plans to locate its European medical isotope production facility in the Netherlands after a yearlong search and a review of more than 50 proposals from sites across Europe. The company announced on May 20 that construction at the site should begin in 2023 with commercial production starting in late 2025.
The plans: The European facility will focus initially on the production of molybdenum-99, the precursor of technetium-99m, a diagnostic medical radioisotope used to identify heart disease, cancer, and other conditions. When completed, the facility will be capable of producing double the European patient need for Mo-99, according to SHINE, and when combined with U.S. capacity, the company's total production will meet 70 percent of the global patient need.
The facility could also be used to produce other medical isotopes, including iodine-131, xenon-133, and lutetium-177, according to the company. Citing strong demand for Lu-177 from clinical trial sponsors, SHINE recently began production of Lu-177 at a facility on its headquarters site in Janesville, Wis.
Siting considerations: SHINE selected the municipality of Veendam, the Netherlands, for its new facility because of the area's strong support for the development and production of lifesaving medicine and the availability of highly skilled and educated workers, according to SHINE. Veendam also provides easy transportation access to the European market, the presence of the highly regarded royal university, and accelerator technology knowledge and infrastructure. The plant is expected to employ roughly 200 workers when fully operational.
"SHINE's selection of the municipality of Veendam as the site for our second production facility is great news for physicians and patients throughout Europe," said Harrie Buurlage, SHINE's vice president of European operations. "The production facility will be a solution for all of Europe, enabling SHINE to deliver a reliable, flexible supply of a broad range of critical medical isotopes to European customers, starting with molybdenum-99. We look forward to working with our new partners in Veendam, the province of Groningen, and the Netherlands."
Back in the U.S.: SHINE's commercial-scale medical isotope production facility in Wisconsin is still under construction. The company said last year that it expects to have an operating license issued by the Nuclear Regulatory Commission by October 2021, and it hopes to be producing Mo-99 at commercial scale by 2022.
"The selection of the location for our new European facility is another demonstration of Shine's commitment to being the world leader in the production of vital medical isotopes," said Greg Piefer, SHINE's chairman and chief executive officer. "Progress on our U.S. facility continues, and our experience with that project will be important during our work on the new facility in Veendam."