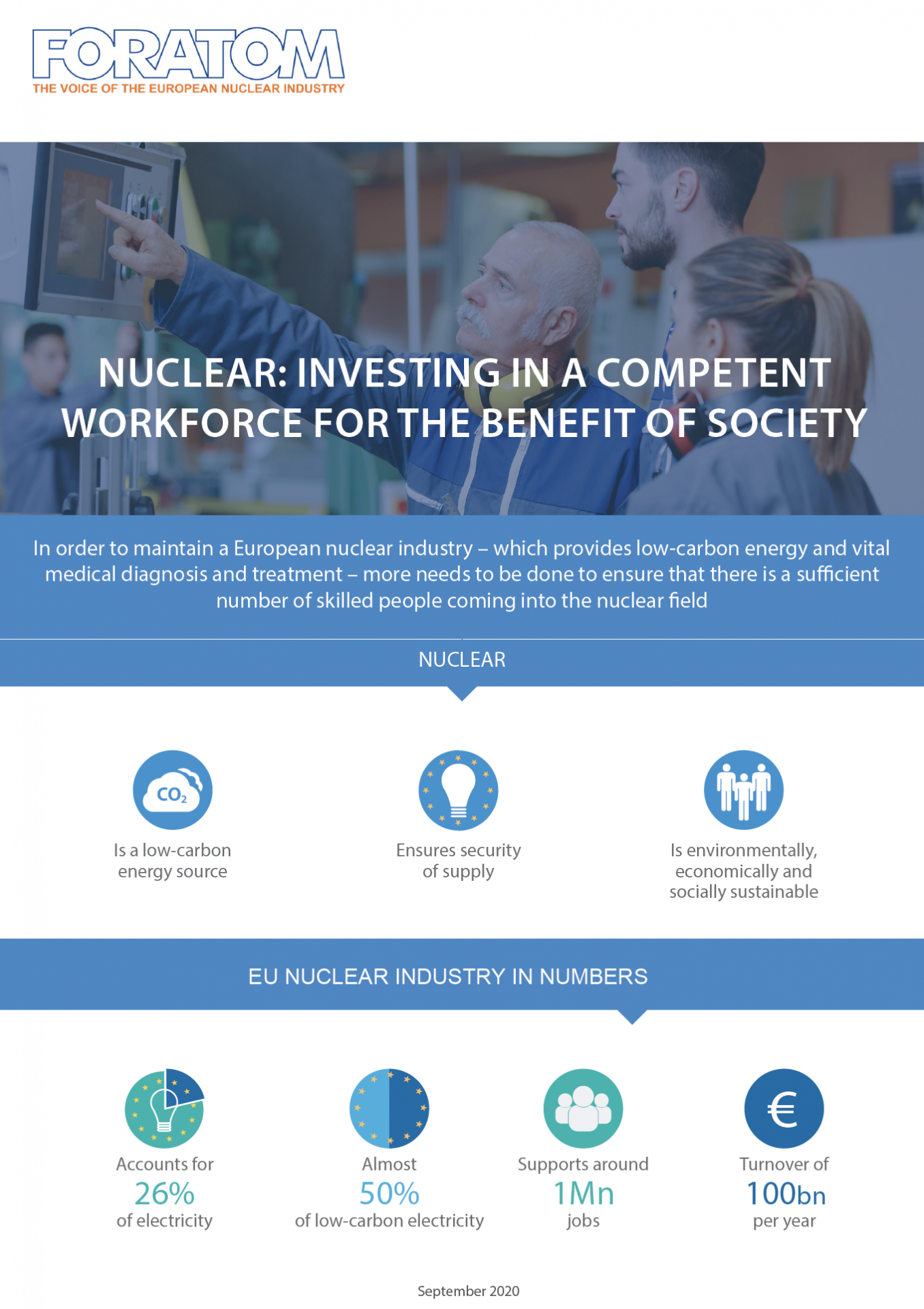 The European Union's education and training policy must do more to ensure that the nuclear sector has a sufficient number of people with the right skills, according Nuclear: Investing in a Competent Workforce for the Benefit of Society, a new position paper from Foratom. The Brussels-based Foratom is the trade association for the nuclear energy industry in Europe.
Stressing the vital roles that nuclear plays in low-carbon power generation and medical diagnosis and treatment, Foratom warns of a growing skills shortage, stemming in part from the significant portion of the nuclear workforce approaching retirement age.
In addition, the report states that "adapting to digitalization and automatization (which are important skill shifts for the decommissioning sector, as well as for new build) will be a challenge faced by the industry. This will require the reskilling and upskilling of workers, as well as ensuring an adequate transfer of knowledge between generations through apprenticeship schemes, for instance."
Recommendations
To address the skills shortage, Foratom calls for:
■ Promoting and making STEM subjects attractive among students to ensure European technological leadership.
■ Developing and implementing policies that encourage young people to study and work in the nuclear field, and by speaking more positively about the benefits to society that nuclear provides.
■ Basing policies on robust scientific facts. This means, the paper says, ensuring that all technologies are treated on an equal footing and that accurate information is provided on employment opportunities within the EU in relation to the different low-carbon sectors.
■ Increasing EU funding for nuclear education and training.
■ Applying a long-term approach to EU-funded projects in the field of education and training. According to the paper, while projects that run for only a limited time do have some short-term benefits, much more could be achieved if those projects were to continue for a longer period. "This may also encourage coordination between overlapping projects and reduce the current duplication," the paper says.
■ Having policymakers, educational systems, and industry work together to ensure generation transition and competence transfer, as well as to help the workforce adapt to new technologies.