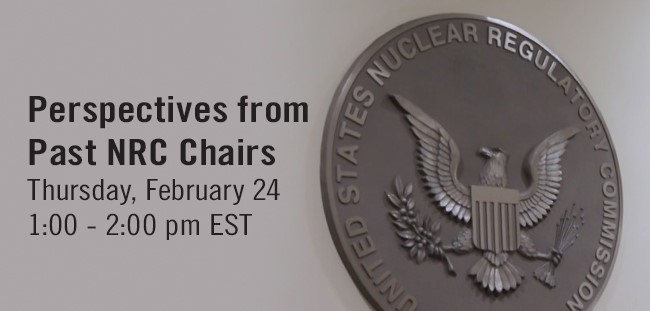 ANS will host a virtual event titled "Perspectives from Past Nuclear Regulatory Commission Chairs" on Thursday, February 24, from 1:00-2:00 p.m. EST.
The speakers: The webinar features four former high-ranking NRC leaders.
William Magwood (moderator), Director-General, Nuclear Energy Agency, NRC Commissioner 2010–2014
Richard Meserve, Senior of Counsel, Covington & Burling LLP, NRC Chair 1999–2003
Dale Klein, Associate Vice Chancellor for Research in the Office of Academic Affairs, The University of Texas System, NRC Chair 2006–2009
Stephen Burns, Senior Visiting Fellow, Third Way, NRC Chair 2015–2017
Register now. The event is complimentary and open to all.