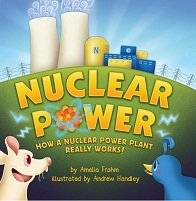 "Do power plants really use mouse traps and ping-pong balls to create energy?" asked a fifth grade boy at Steele Creek Elementary School. Why would he ask this question? The question was a legitimate one for students attending the RCS Nuclear-sponsored reading of the children's picture book Nuclear Power: How a Nuclear Plant Really Works! at Steele Creek Elementary in Charlotte, N.C., during National Engineers Week.
Amelia Frahm, author of the book, read the book to the school children and described a fission chain reaction using a metaphor of ping-pong balls and mouse traps to help children understand how energy is produced in a nuclear power plant. This is why RCS Nuclear chose to donate Frahm's book to Charlotte area elementary schools and sponsor the author reading.
As a supplier of nuclear and related engineering personnel, RCS Nuclear believes it has a responsibility to encourage young students to become engineers, especially because of the lack of interest sometimes found in students today. "These students are the future for the industries we supply engineers to, and it is the company's responsibility to prepare them now," said Carlos Garcia, ANS member and founder of RCS Nuclear.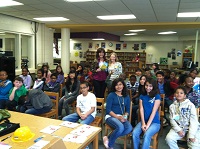 In attendance at Frahm's book reading were five sessions of 50 students; in total, approximately 250 fourth and fifth graders were there. Prior to the reading, the students were asked if they knew what nuclear engineers did or how nuclear energy was created. No student could give an answer, but they listened carefully as they learned how a nuclear plant works from the point of view of a lab rat, a blue bird, and a fat cat, who are characters in the book. Then, they laughed and enjoyed a video created by the author, which demonstrated the mouse trap and ping-pong ball fission chain reaction. These reactions prove that educating young students about nuclear energy and encouraging them to pursue a higher education and career in the nuclear industry is necessary and effective. When approached with information about nuclear science in a way that is enjoyable to them, it can spark a new interest in students and influence their future educational goals.
"What makes a Nuclear Plant Nu-cle-ar?" - a report by Birderson Cooper Produced by Tabitha Frahm and Amelia Frahm
It is the responsibility of companies, organizations, and individuals involved in the nuclear industry to participate in K-12 outreach programs and events such as National Nuclear Science Week and National Engineers Week. Messages need to be entertaining and tailored to engage young people using concepts they understand. For example, during the author reading at Steele Creek Elementary School, Amelia Frahm tapped into the fourth and fifth grade psyche and, in addition to the ping-pong ball and mouse trap metaphor, explained fissioning by using a spitball fight, with teachers being the control rods who stop the fission chain reaction/spitball fight. The students instantly related to this and truly got a simplified understanding of a fission chain reaction.
There are many opportunities for the nuclear industry to get involved in securing its future. Research and use the many resources that are available to assist in your K-12 outreach. It is important to become active with schools and youth organizations, rather than remain passive and hope that students are getting encouragement solely from their teachers and administration. Pass along your passion for your profession and the nuclear industry to young people, and reach the ones who may never have considered a nuclear career if not for your support.
Suzy Hobbs Baker introduces Amelia Frahm and Nuclear Power: How a Nuclear Plant Really Works! at the ANS Nuclear Cafe.
Some resources from the American Nuclear Society:
See ANS Public Information for much more.
______________________
Cargle
Bethany Cargle is a recent graduate from the University of North Carolina- Charlotte with a B.A. in Communication Studies. She is the Marketing Specialist at RCS Nuclear (http://www.rcsnuclear.com/), a professional staffing service provider for the nuclear industry, and is a member of the Piedmont-Carolinas American Nuclear Society chapter.