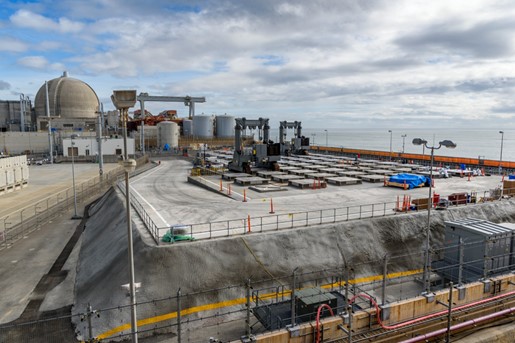 Spent Fuel Solutions, which advocates for a permanent disposal solution for the nation's spent nuclear fuel, will be holding an informational webinar on Friday, September 15, from 11:00 a.m. to noon (PDT).
The webinar will focus on the shifting influences and evolving narrative around the U.S. spent fuel program, including how the prospect of reprocessing may reframe perceptions about spent fuel.
Panelists include Katrina McMurrian, executive director of the Nuclear Waste Strategy Coalition; Rod McCullum, senior director of used fuel and decommissioning with the Nuclear Energy Institute; and Tom Isaacs, an independent strategic advisor to Southern California Edison for nuclear waste management and former director of the Department of Energy's Office of Nuclear Waste Policy.
Participants can email info@spentfuelsolutionsnow.com to RSVP or to submit questions to the panelists.
Background: Formed following the closure of Southern California's San Onofre Nuclear Generating Station (SONGS), Spent Fuel Solutions is a group of local governments, elected officials, utilities, environmental groups, labor leaders, Native American leaders, business organizations, and other community members who support the development of a federally licensed facility for spent nuclear fuel.
The group aims to encourage the federal government to provide off-site storage or permanent disposal solutions for the spent nuclear fuel at SONGS and other nuclear sites across the state and nation through a consent-based siting process with input from stakeholders and engaged communities.
Founding members include representatives from Orange, San Diego, and Riverside Counties; Southern California Edison; San Diego Gas and Electric; and the city of Riverside.