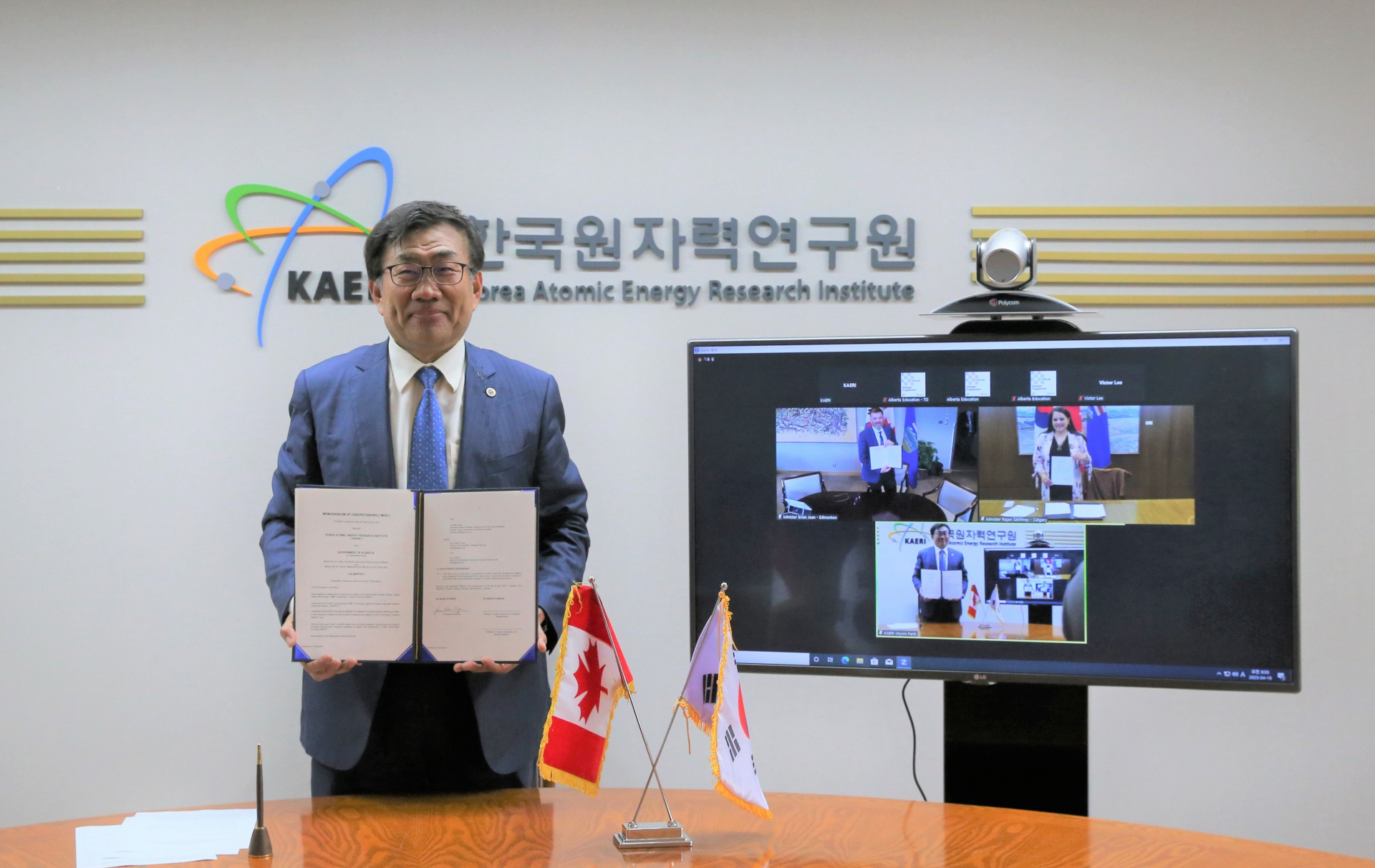 The Korea Atomic Energy Research Institute (KAERI) and the government of Alberta have agreed on a comprehensive cooperation framework to explore the viability of using small modular reactors to help decarbonize the province—Canada's biggest energy producer and its biggest polluter. The announcement comes the same week that Alberta's United Conservative Party government released a climate plan aimed at reaching net zero by 2050.
On April 19, Joo Han-Gyu, KAERI president; Brian Jean, Alberta's minister of jobs, economy, and northern development; and Rajan Sawhney, Alberta's minister of trade, immigration, and multiculturalism signed a memorandum of understanding to bolster collaboration on the deployment of SMR technology in the province, including KAERI's 330-MWt, 100-MWe System-integrated Modular Advanced ReacTor (SMART).
The MOU follows a visit to KAERI in late February by Jean and Sawhney. According to a February 28 KAERI news release on the visit, the ministers toured the institute's research facilities, including the SMART-ITL and SMART-MCR Simulator. "It was an excellent opportunity to see the technology up close and to witness the advancements being made in the field," the release stated. "Overall, the visit lays a solid groundwork for potential future SMART cooperation and partnerships between KAERI and the government of Alberta."
Signers' language: "It is time to translate the net-zero emission commitment into actions, and SMR technology is crucial in carbon reduction actions," stated Joo at the MOU signing ceremony. "A deployment of SMART in Alberta will be the pioneer in the battle against climate change."
Jean said that his government is ready to explore "all technologies, including SMRs, to help energy production thrive in a low-carbon future," and that through the MOU with KAERI, "we are continuing to explore deploying SMR technology and strengthening Alberta's position as a world-leading responsible energy producer for years to come."
Added Sawhney: "I am proud of the agreement we are making as a result of our trade mission to Korea and am excited about the potential for SMR technologies, such as KAERI. This is yet another example of continued global interest in Alberta and the diverse opportunities that Alberta offers."
In case you missed it: Invest Alberta Corporation (IAC) signed an MOU with X-energy Canada in January to develop economic opportunities in support of the potential deployment of the Xe-100 SMR in Alberta.
According to an X-energy release, the MOU calls for identifying supply chain opportunities, engaging with local and provincial governments, and bolstering "relationships with indigenous communities interested in equity participation in Xe-100 projects." In addition, IAC is to assist X-energy in establishing a divisional office to help advance these local endeavors.