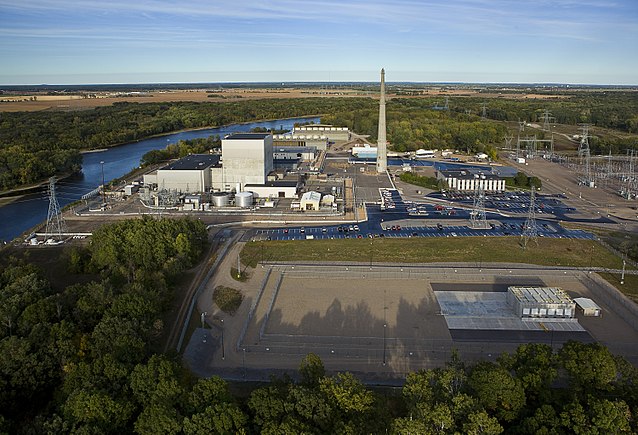 An Xcel Energy news release issued last week regarding the leak of some 400,000 gallons of tritium-containing water at Minnesota's Monticello nuclear power plant in 2022 has sparked a flood of news stories over the past few days—in large part because the general public had previously been unaware of the leak. (A low-level beta emitter, tritium is a common byproduct of nuclear reactor operation.)
Xcel informed both the Nuclear Regulatory Commission and state officials on November 22 of last year, the day the leak was confirmed, concluding in its NRC event notification report that "there was no impact on the health and safety of the public or plant personnel."
What they're saying: Commenting on the nearly four-month gap between confirmation of the leak and notification to the public, Xcel spokesperson Lacey Nygard told National Public Radio on March 19 that while initially focused on investigating the event and containing the water, the company is "now at a place where we can share with the public not only what has already been done but what we're going to do next. This timing allows us to provide the most accurate and complete understanding of the situation."
In Xcel's March 16 press release on the matter, Chris Clark, Xcel Energy–Minnesota, North Dakota and South Dakota president, commented that "we have taken comprehensive measures to address this situation on-site at the plant. While this leak does not pose a risk to the public or the environment, we take this very seriously and are working to safely address the situation. We continue to gather and treat all potentially affected water while regularly monitoring nearby groundwater sources. We will continue to partner with local groundwater specialists, and we remain in close cooperation with state and federal regulators and our local community throughout the remediation effort."
And in a March 16 release of its own, the Minnesota Pollution Control Agency remarked, "The leak has been stopped and has not reached the Mississippi River or contaminated drinking water sources. There is no evidence currently to indicate a risk to any drinking water wells in the vicinity of the plant."
Remediation efforts: Xcel noted in its release that the leak was detected by routine groundwater monitoring systems at Monticello. To contain the leak—the source of which was identified as a pipe running between two buildings—Monticello is diverting the water to an in-plant water treatment system, preventing additional water from leaving the plant, and will install a permanent solution in the spring of this year, the company stated, adding that a thorough inspection has been conducted of all piping in all locations where leaks could occur.
In addition, Xcel said it has constructed new monitoring and recovery wells and has increased the frequency of measurements from its network of over two dozen groundwater monitoring wells to enhance monitoring and recovery efforts.
Approximately 25 percent of the tritium released has been recovered so far, and recovery efforts will be continuing over the course of the year, according to the company.