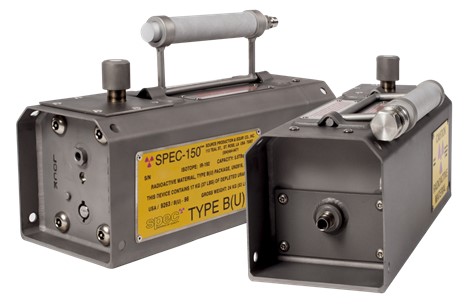 The Texas Department of State Health Services issued a public notification of a missing radiographic camera in Houston, Texas, on March 11. According to the department, the last known location of the device was 4040 Little York Road, on the northern edge of the city.
A photograph of the device released by the Texas DSHS indicated that it is a Spec model Spec-150 ANSI Type 1 portable depleted uranium shielded exposure device, which is used for nondestructive industrial gamma radiography testing applications. According to its user manual, the Spec-150 contains a model G-60 source assembly, an iridium-192 radioactive sealed source with a maximum activity of 150 curies (5,550 GBq).
The Texas DSHS, which noted that the device's sealed source is contained within multiple layers of protection and the risk of exposure is very low, is asking for help from the public in finding the device.
According to a report by NBC News, the device went missing on March 9 from a truck parked at a restaurant where workers were buying lunch. A search for radioactive sources within a 5-mile radius of the restaurant failed to turn up the device.