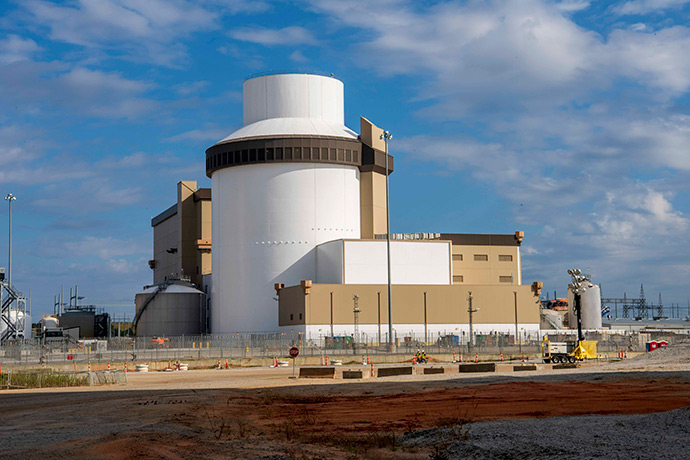 Unit 3 at the Vogtle nuclear power plant has achieved initial criticality, Georgia Power announced yesterday. A key milestone on the way to the reactor's commercial operation, initial criticality demonstrates that operators have safely started, for the first time, the nuclear reaction inside the unit. (Fuel loading at Vogtle-3 began last October.)
The news was a welcome change for nuclear energy advocates, who over the years have become depressingly used to announcements of delays and cost overruns at the Vogtle two-unit construction project. Just last month, Georgia Power's parent, Southern Company, announced a delay to Vogtle-3's expected in-service date from this April to May or June, as well as a possible pushback of Vogtle-4's expected start from the end of 2023 to the end of the first quarter of 2024.
According to Georgia Power's announcement, with Unit 3 criticality now reached, operators will continue to raise power to support synchronizing the generator to the electric grid and begin producing electricity. Operators will then further increase power through multiple steps, ultimately raising power to 100 percent.
These tests, the utility noted, are designed to ensure all systems are operating together and to validate operating procedures prior to declaration of commercial operation.
CEO excitement: "We remain focused on safely bringing this unit on line, fully addressing any issues, and getting it right at every level," said Chris Womack, chairman, president, and chief executive officer of Georgia Power. "Reaching initial criticality is one of the final steps in the startup process and has required tremendous diligence and attention to detail from our teams. When you consider the history of safe and reliable operations at Vogtle Units 1 and 2 for decades now, it puts today's milestone in perspective that Plant Vogtle will be a four-unit site, making it the largest of its kind in the U.S. This is a truly exciting time as we prepare to bring online a new nuclear unit that will serve our state with clean and emission-free energy for the next 60 to 80 years."
Patrick Fragman, president and CEO of Westinghouse Electric Company—the supplier of the two new AP1000 units—added, "We are honored to share this incredible moment with Southern Nuclear, Georgia Power, and the project's co-owners [Oglethorpe Power Corporation, Municipal Electric Authority of Georgia, and Dalton Utilities], and with the entire team at Vogtle. This is a significant step toward delivering clean, reliable, and safe power to the people of Georgia for generations to come."