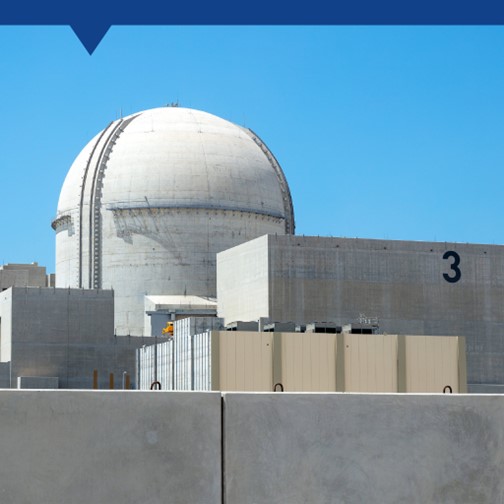 Three up, one to go: The third of four Korean-designed APR-1400 reactors at the United Arab Emirates' Barakah nuclear power plant has begun commercial operation, Emirates Nuclear Energy Corporation (ENEC) announced on February 24.
Barakah-3 joins Units 1 and 2, which commenced their operational lives in April 2021 and March 2022, respectively. The new unit adds another 1,345 MWe of zero-carbon-emission electricity to the UAE's national grid, bringing the plant's total to 4,035 MWe. The commercial start of Unit 4 is expected next year.
Construction of Unit 3 was completed in November 2021. Some seven months later, in June 2022, the UAE's Federal Authority for Nuclear Regulation (FANR) issued the unit's operating license to Nawah Energy Company,the joint operating and maintenance subsidiary of ENEC and Korea Electric Power Corporation. Fuel loading began later that same month, and initial criticality was achieved in September.
According to ENEC's announcement, the time between Unit 3 fuel load and commercial operation was reduced by four months compared with Unit 2 and by more than five months compared with Unit 1, "demonstrating how the operations' teams have utilized and implemented the experience gained from the previous two units while continuing to adhere to all national regulations and international standards, as confirmed by the assessments of the UAE regulator FANR and the World Association of Nuclear Operators."
CEO statements: "In the 'Year of Sustainability' for the UAE, we are proud to take the UAE Peaceful Nuclear Energy Program another step forward with Unit 3 beginning commercial operations," said Mohamed Ibrahim Al Hammadi, ENEC's managing director and chief executive officer. "This has been achieved less than a year after successfully starting commercial operations for Unit 2. Barakah is a successful global benchmark for other nations looking to diversify their energy portfolio during a time of international energy crises. With three units now operating commercially, we are delivering energy security, powering sustainable economic growth, driving innovation, and contributing to achieve our net-zero strategy by 2050. We look forward to showcasing just how critical nuclear is in tackling climate change, using proven solutions available today, at COP28 in the UAE in November."
Nawah CEO Ali Al Hammadi added that his company's "highly skilled and qualified national and international experts have world-class operating experience to safely provide constant, reliable, and sustainable clean electricity around the clock from three parallel operating units."
Background: The UAE began a nuclear partnership with South Korea in 2009 when Kepco was awarded the prime contract to design, build, and help operate four APR-1400 pressurized water reactors at Barakah, located in the Al Dhafra region of Abu Dhabi. In 2016, ENEC and Kepco signed a joint venture agreement for a long-term partnership to become joint owners of Nawah and Barakah One Company, with ENEC owning 82 percent of the two firms and Kepco holding an 18 percent ownership stake.
ENEC estimates that once all four units are in operation, the plant will supply approximately 25 percent of the UAE's electricity, while preventing 22.4 million tons of carbon emissions annually.