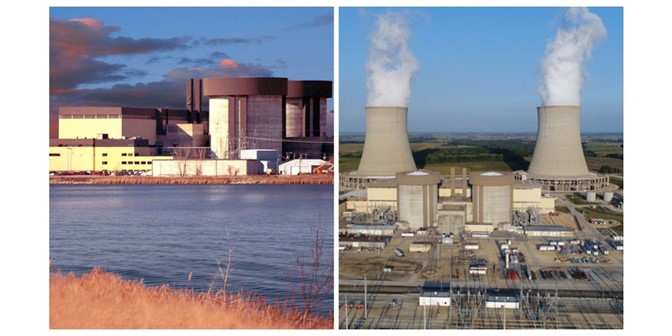 Constellation Energy has announced that it intends to invest $800 million in new equipment at the Braidwood and Byron nuclear plants in Illinois to raise their combined output by a total of about 135 MW.
Both plants are pressurized water reactor facilities with similar power generation levels. Currently, Braidwood-1 and -2 can produce 1,212-MWe and 1,174-MWe of electricity, respectively, while Byron-1 and -2 top out at 1,189-MWe and 1,158-MWe.
According to Constellation's February 21 announcement, a carbon-free power increase of 135 MW is equivalent to removing 170,000 gas-powered vehicles from the road each year or adding 216 wind turbines to the grid.
The project will involve replacing the plants' main turbines with "state-of-the-art, high-efficiency units," the announcement stated, and is "expected to create work for thousands of skilled union workers during construction while expanding economic activity for surrounding businesses in the plant communities."
Constellation added that it anticipates an increased output at Braidwood and Byron as early as 2026, with the full uprated output available by 2029. Work on the uprates is set to be performed in stages during scheduled refueling outages.
The CEO statement: "These investments in our world-class nuclear fleet will allow us to generate more zero-carbon energy with the same amount of fuel and land, and that's a win for the economy, the environment, and Illinois families and businesses who rely on our clean energy," said Joe Dominguez, president and chief executive officer of Constellation. "These projects will help create family-sustaining jobs and are a direct result of state and federal policies that recognize the incredible value of nuclear energy in addressing the climate crisis while keeping our grid secure and reliable."
Background: In August 2020, Constellation (then Exelon Generation) announced its intention to prematurely retire Byron and Dresden (another Illinois nuclear plant), citing long-standing economic pressures. Without some form of compensation from the state for the plants' environmental and reliability attributes, the company said, Byron would shut down in September 2021, followed by Dresden two months later. The company also warned that its Braidwood and LaSalle facilities were in jeopardy of early retirement.
A year-long nail-biting drama ensued, coming to an end on September 15, 2021—almost literally the last possible moment, as Byron had been slated to close earlier that week—when Illinois Gov. J.B. Pritzker signed into law the Climate and Equitable Jobs Act (CEJA), a sweeping overhaul of the state's energy policies aimed at phasing out fossil-fuel power generation and placing Illinois on a path to become a 100 percent carbon-free energy producer by 2050. The CEJA included $694 million in assistance to three of Constellation's then-struggling nuclear plants—Braidwood, Byron, and Dresden.