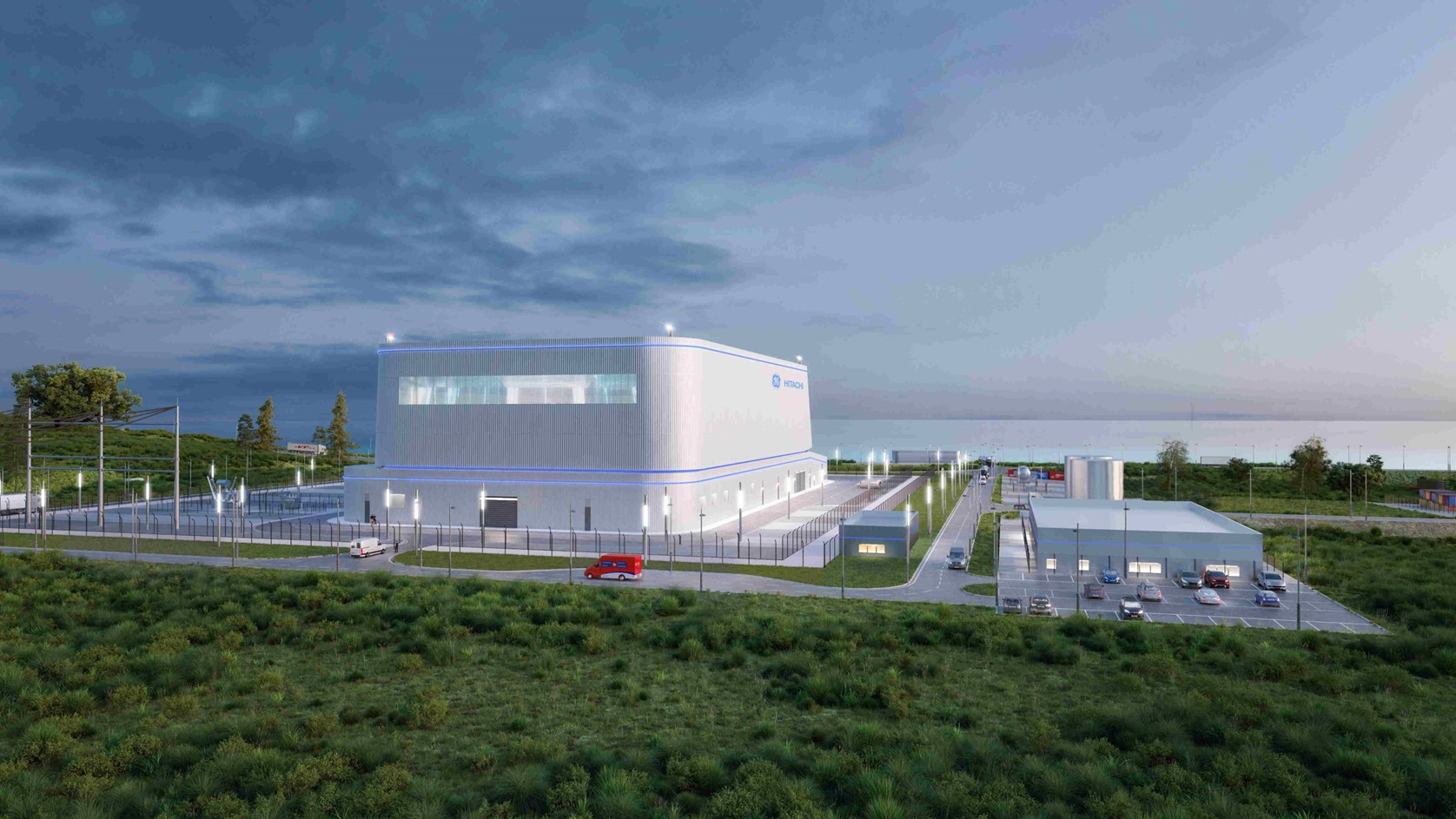 Wilmington, N.C.–based GE Hitachi Nuclear Energy and Canadian firms Ontario Power Generation, SNC-Lavalin, and Aecon announced this morning the signing of a contract for the deployment of a BWRX-300 small modular reactor at OPG's Darlington nuclear site in Canada. According to the announcement, it is the first commercial contract for a grid-scale SMR in North America.
The six-year, multiparty agreement covers a range of project activities:
OPG will serve as the license holder and maintain overall responsibility for the project, including operator training, commissioning, indigenous engagement, stakeholder outreach, and oversight.
GEH, as the technology developer, will be responsible for design, procurement of major components, engineering, and support.
SNC-Lavalin will serve as the architect and engineer, providing design, engineering, and procurement support.
Aecon will handle all construction services, including project management, construction planning, and execution.
With site preparation and related work currently underway, SMR construction is expected to be completed by the fourth quarter of 2028.
The tech: An evolution of GEH's 1,520-MWe Generation III+ ESBWR design (approved by the Nuclear Regulatory Commission in 2014), the BWRX-300 is a 300-MWe water-cooled, natural-circulation SMR with passive safety systems. According to GEH, because of design simplification, the BWRX-300 should require significantly lower capital costs per megawatt than other water-cooled SMR designs or existing large nuclear reactor designs. It is currently undergoing a prelicensing vendor design review by the Canadian Nuclear Safety Commission (CNSC).
Background: Darlington, home to four 878-MWe CANDU pressurized water reactors, is the only site in Canada currently licensed for new nuclear. OPG was granted a license by the CNSC in 2012 to allow site preparation activities for a nuclear new-build project. The license was renewed in October 2021, and is now valid until October 11, 2031.
In October 2020, OPG announced that it was working with three grid-scale SMR technology developers—GEH, Terrestrial Energy, and X-energy—to advance engineering and design work with the goal of identifying options for future deployment. The following month, the utility announced the resumption of planning activities for future nuclear power generation at Darlington, with the goal of hosting a grid-size SMR as soon as 2028. (An earlier project plan had focused on the construction of traditional large reactors.) OPG selected GEH in December 2021 as its technology partner for the SMR project.
Official words:
GEH—"This innovative project agreement is a significant milestone for the deployment of the BWRX-300 small modular reactor at the Darlington site," said GEH president and chief executive officer Jay Wileman. "The strong and experienced team that has been assembled will work together to ensure the successful delivery of the first SMR in North America."
OPG—"Working with these three companies, OPG is leveraging decades of nuclear energy and large-project experience to deliver much-needed new, reliable electricity generation to Ontarians," said Ken Hartwick, OPG president and CEO. "Construction of the Darlington SMR will create jobs and help ensure we meet Ontario's growing energy needs as electrification and a growing economy drive demand."
SNC-Lavalin—"Following our on-time, on-budget success working with OPG on the refurbishment of Darlington's existing CANDU reactors, we are very pleased to contribute our expertise with our alliance partners on this exciting new build," said Joe St. Julian, president of SNC-Lavalin's nuclear division. "Canada was the second country in the world to ever generate commercial nuclear power. Together with our alliance partners, we will ensure Canada again leads the way to advance an exciting new frontier in nuclear energy."
Aecon—"As the preeminent nuclear constructor in Canada, Aecon is proud to bring our proven, full spectrum of expertise to deliver this exciting new nuclear build, leading the way in deploying the next generation of plants and guaranteeing the production of clean, reliable, and affordable electricity in Ontario," said Jean-Louis Servranckx, Aecon president and CEO. "Nuclear power and SMRs are integral to Aecon's growth strategy in Canada, the U.S., and internationally and will play a significant role in advancing global progress towards achieving sustainability targets and a net-zero economy by 2050."
In case you missed it: Late last June, following an assessment of several SMR technologies, SaskPower selected the BWRX-300 for potential deployment in Saskatchewan in the mid-2030s. Just days later, Jeff Lyash, president and CEO of the Tennessee Valley Authority, announced during a third-quarter investor call that TVA and GEH had signed an agreement to support planning and preliminary licensing for the potential deployment of a BWRX-300 at the Clinch River Site near Oak Ridge, Tenn.