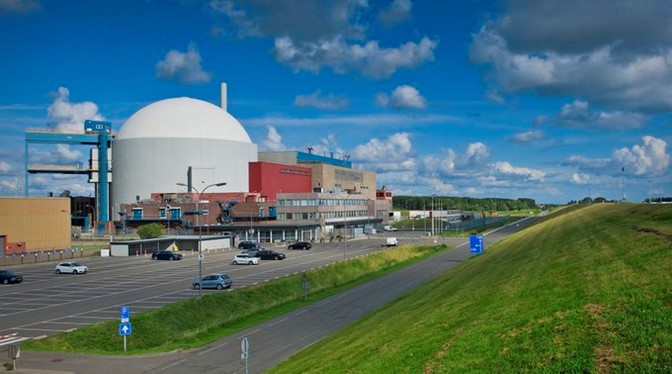 While it currently has the lowest installed nuclear capacity of any nuclear-powered nation in Europe with one 482-MWe pressurized water reactor at Borssele, the Netherlands has in recent years been looking to move up in the rankings.
In September 2020, the Dutch government released a report that answered in the affirmative the question of whether nuclear energy could play an important role in the Netherlands' future energy mix. Then in December of last year, a new coalition government issued a 2021-2025 energy policy document calling for the construction of two nuclear power reactors—with €500 million (about $534 million) earmarked for the effort through 2025—as well as life extension for Borssele beyond its scheduled 2033 closure date.
Looking ahead: And now, advancing those plans further, the government announced on December 9 the selection of Borssele as its "preferred location" for two additional Generation III+ reactors. The units will have a capacity range of 1,000–1,650 MW and will provide 9–13 percent of the country's electricity production in 2035, the projected year of the reactors' completion. The government does not expect a final decision regarding location to be made until the end of 2024 at the earliest.
"This is the most modern type of reactor with improvements in safety, operating time, fuel technology, and efficiency," the announcement stated. "The first Generation III+ reactors have now been put into operation in other countries. As a result, there is extensive international practical experience with the planning and financing of this technique. This makes the deployment of Generation III+ reactors the fastest route to a contribution of nuclear energy to a stable, CO2-neutral, and diverse energy system."
The announcement also reiterated the government's intention to keep Borssele running past 2033. Noting that the country's Authority for Nuclear Safety and Radiation Protection will need to assess whether maintaining operations at what would be by then a 60-year-old facility "is technically feasible and safe," the announcement added, "By keeping [Borssele] open, the government prevents that more electricity has to be produced with fossil fuels due to closure and that the Netherlands becomes more dependent on the import of energy. In addition, [Borssele] contributes to the preservation of nuclear knowledge and research. In order to be able to extend, the Nuclear Energy Act and the existing agreements with the shareholders of the plant must be amended. Technical studies are being carried out that will show how long and under what conditions the plant can remain open longer in a safe and responsible manner."
Operational support: Borssele's owner and operator, N.V. Elektriciteits-Produktiemaatschappij Zuid-Nederland (EPZ), appears to be fully on board with the plan. "EPZ looks forward with confidence to the conversation that the Ministry of Economic Affairs and Climate Policy wants to start with the shareholders to make agreements about extending the operating life of [Borssele]," the company said in a press release. "EPZ also endorses the government's view that the extended operations with [Borssele] are a bridge to the commissioning of two new nuclear power plants in Borssele. The first step towards extending the operating life of [Borssele] after 2034 is to start a feasibility study. EPZ has applied for a subsidy for this technical research."