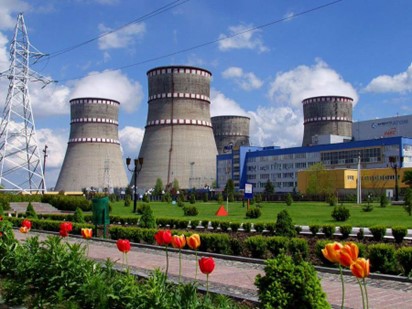 Westinghouse Electric Company this week inked agreements with two of its European customers—Ukraine reactor fleet operator Energoatom and Bulgaria's Kozloduy NPP–Newbuild, a firm established in 2012 to commission new nuclear power capacity at Kozloduy, Bulgaria's only nuclear power facility.
In Ukraine: On June 13, Westinghouse announced the signing of a contract with Energoatom to design, manufacture, and deliver long-term containment cooling systems as part of the modernization of the Rivne nuclear plant in northern Ukraine.
This is the first time the American firm will have delivered these cooling systems to support severe-accident management at a Russian-designed VVER-440 reactor plant, according to the announcement. The systems will be manufactured by Westinghouse using a patented process specifically designed for the global VVER-440 fleet then delivered to Rivne next year, the company said.
"This contract is part of our commitment to helping Ukraine secure a reliable, safe energy future," said Dan Sumner, president of Westinghouse Operating Plant Services. "Safety upgrades like the long-term containment cooling systems will improve the safety of Energoatom's VVER-440 reactors for decades to come."
Westinghouse and Energoatom signed agreements in June of last year to supply all of the nuclear fuel for Ukraine's operating reactor fleet and to collaborate on the construction of nine AP1000 reactors, rather than the five previously envisioned.
In Bulgaria: Westinghouse announced on June 14 that it has signed a front-end engineering and design contract with Kozloduy NPP–Newbuild for an AP1000 unit at the Kozloduy site.
"We are pleased to begin work to deliver the world's most advanced, Generation III+ reactor technology to provide clean and reliable baseload energy for our customer and the people of Bulgaria," stated David Durham, energy systems president for Westinghouse. "We thank Kozloduy NPP–Newbuild and the Bulgarian parliament for their confidence in our industry-leading, nth-of-a-kind technology. We commend Kozloduy NPP–Newbuild for their thoughtful approach to best-in-class project delivery that will ensure high localization of the work."
Currently, there are two 1,003-MWe VVER-1000 reactors in operation at Kozloduy. Westinghouse signed a 10-year agreement in December 2022 to supply nuclear fuel to one of the units starting in 2024. The fuel will be supplied out of Westinghouse's fabrication site in Västerås, Sweden.
Earlier this year, Westinghouse signed a memorandum of understanding with Kozloduy NPP–Newbuild to establish a working group to initiate planning for the potential deployment of one or more AP1000s at Kozloduy.