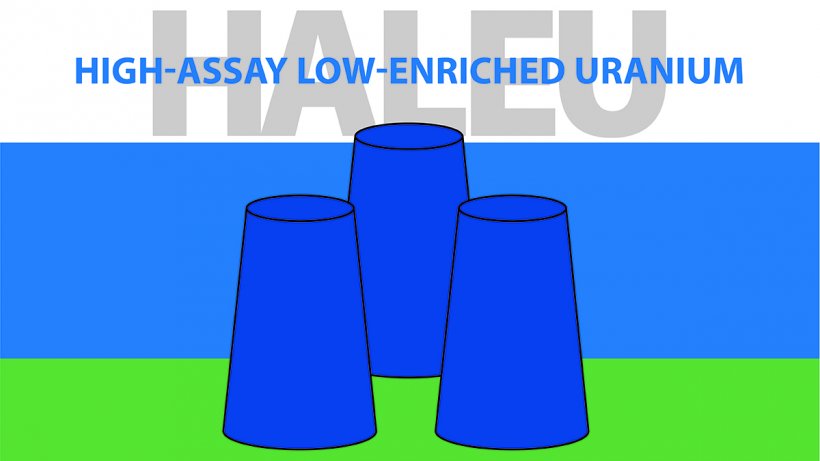 The Department of Energy's Office of Nuclear Energy announced December 7 that its new HALEU Consortium is open for membership. And not just from U.S. enrichers, fuel fabricators, and others working in the front-end fuel cycle, but from "any U.S. entity, association, and government organization involved in the nuclear fuel cycle," and—at the DOE's discretion—"organizations whose facilities are in ally or partner nations." The HALEU Consortium will essentially serve as an information clearinghouse to meet DOE-NE's ongoing needs for firm supply and demand data as it supports the development of a commercial domestic high-assay low-enriched uranium (HALEU) infrastructure to fuel advanced reactors. The consortium is open for business almost one full year after the DOE first requested public input on its structure.
The plan: According to the consortium's new website, "The HALEU Consortium is one way for NE to bring together members of the HALEU community and is intended to serve as an important mechanism of communication for NE and the consortium members." While the membership invitation is broad, DOE-NE will decide who joins and how information is shared. DOE-NE "will coordinate HALEU consortium membership and consortium activities consistent with its purposes and objectives."
A notice published in the Federal Register described a plan to survey members every two years on anticipated commercial HALEU needs: "The Department may use the consortium to collect data from individual members, exchange views with individual members on how best to ensure the availability of HALEU in the short term and long term, and develop arrangements to provide HALEU to individual members for demonstration projects and commercial uses. In this regard, the Department intends to undertake biennial surveys to estimate the quantity of HALEU necessary for domestic commercial use for each of the 5 years subsequent to a survey. In addition, the Department may work with individual members of the consortium to develop a schedule for cost recovery of HALEU made available to individual members of the consortium for commercial use."
More moving pieces: The HALEU Consortium is one part of the broader HALEU Availability Program (both were mandated in the Energy Act of 2020), which tasked the DOE with securing a supply of HALEU to support advanced reactor research, development, demonstration, and deployment for commercial applications.
The DOE released a Sources Sought Notice in early October and held a HALEU Industry Day on October 14 as it was working on a yet-to-be-released draft request for proposals (RFP) for offtake contracts that would provide the demand pull needed to convince enrichers to make capital investments in HALEU enrichment infrastructure. Information released by the DOE-NE at that time indicated that "all HALEU that DOE may acquire must be enriched using new capacity, either new or expanded, physically located in the United States. . . . Notably, the HALEU that DOE may acquire would be prioritized from feed conversion services using new capacity, either new or expanded, physically located in the United States, as well." The DOE is seeking 25 metric tons of HALEU per year in three forms: 6 metric tons each of in oxide and metal forms and 13 metric tons of UF6 that could later be deconverted to fabricate either oxide or metallic HALEU fuels.
Later in October, TerraPower and X-energy, the two companies building commercial-scale reactor demos through the DOE's Advanced Reactor Demonstration Program, signaled their expected HALEU demand with separate announcements that they were breaking ground on HALEU fuel facilities near Wilmington, N.C., and in Oak Ridge, Tenn., respectively.
On November 15 during an ANS Winter Meeting executive panel session titled "Got Fuel? Progress Toward Establishing a Domestic US HALEU Supply," Andrew Griffith, DOE-NE's deputy assistant secretary for nuclear fuel cycle and supply chain, said the DOE is carefully considering the price it will offer through offtake contracts and the price it will offer to reactor developers. "Initially our plans are to adjust the price that we distribute and provide that to the two demos and those advanced reactors beyond that. . . . We're going to have to put some effort into calculating [that distribution price] so that it's more reflective of a long-term stable market price. . . . We want to do that in a thoughtful way that encourages the market and doesn't dampen it."
Join the club? Entities interested in joining the HALEU Consortium should send an email to HALEUConsortium@nuclear.energy.gov explaining their involvement in the nuclear fuel cycle and their interest in partnering with the DOE. Membership requires approval by the DOE-NE.