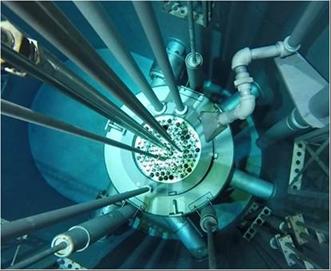 The Nuclear Regulatory Commission has conducted a special inspection at the University of Texas's TRIGA Mark II nuclear research reactor in Austin to evaluate the use of improper fuel. The inspection was ordered following a notification from the University of Texas—Austin to the NRC that the research reactor had been operating for several months with two fuel elements that were not licensed for the reactor.
Notification to NRC: The Nuclear Engineering Teaching Laboratory at the University of Texas notified the NRC on November 2 that the lab had "identified a potential non-compliance with Technical Specifications for the University of Texas research reactor on October 17 while shutdown. Our facility license specifies TRIGA fuel elements with stainless steel cladding, and we operated from January to October [2022] with two aluminum clad fuel elements in the core. On discovery, we suspended operations, removed the aluminum clad elements from the core, and compared the event to each reportable category identified in our Technical Specifications."
According to the notification, it could not be determined what led to this event. Despite analysis showing that safety margins had been maintained, the lab "felt strongly that NRC should be informed and notified our program manager and designated inspector before initiating investigation and causal analysis."
NRC announcement: The NRC released a statement on November 7 saying that "available information continues to satisfy the NRC that the [University of Texas–Austin] facility remains safe." Nevertheless, the agency began an inspection on November 7 to gather all relevant facts. Two inspectors from the NRC's headquarters in Rockville, Md., were supplemented with additional inspectors and technical experts as needed. They inspectors evaluated "the adequacy of UTA's response to the situation, the university's determination of the root cause of the event and the facility's corrective actions," the NRC announcement noted. "The inspectors will also review information related to any impacts from the use of improper fuel prior to restart of the research reactor."
NRC report: The inspectors will prepare a written report on their findings that will be publicly available approximately 30 days after completion of the inspection.