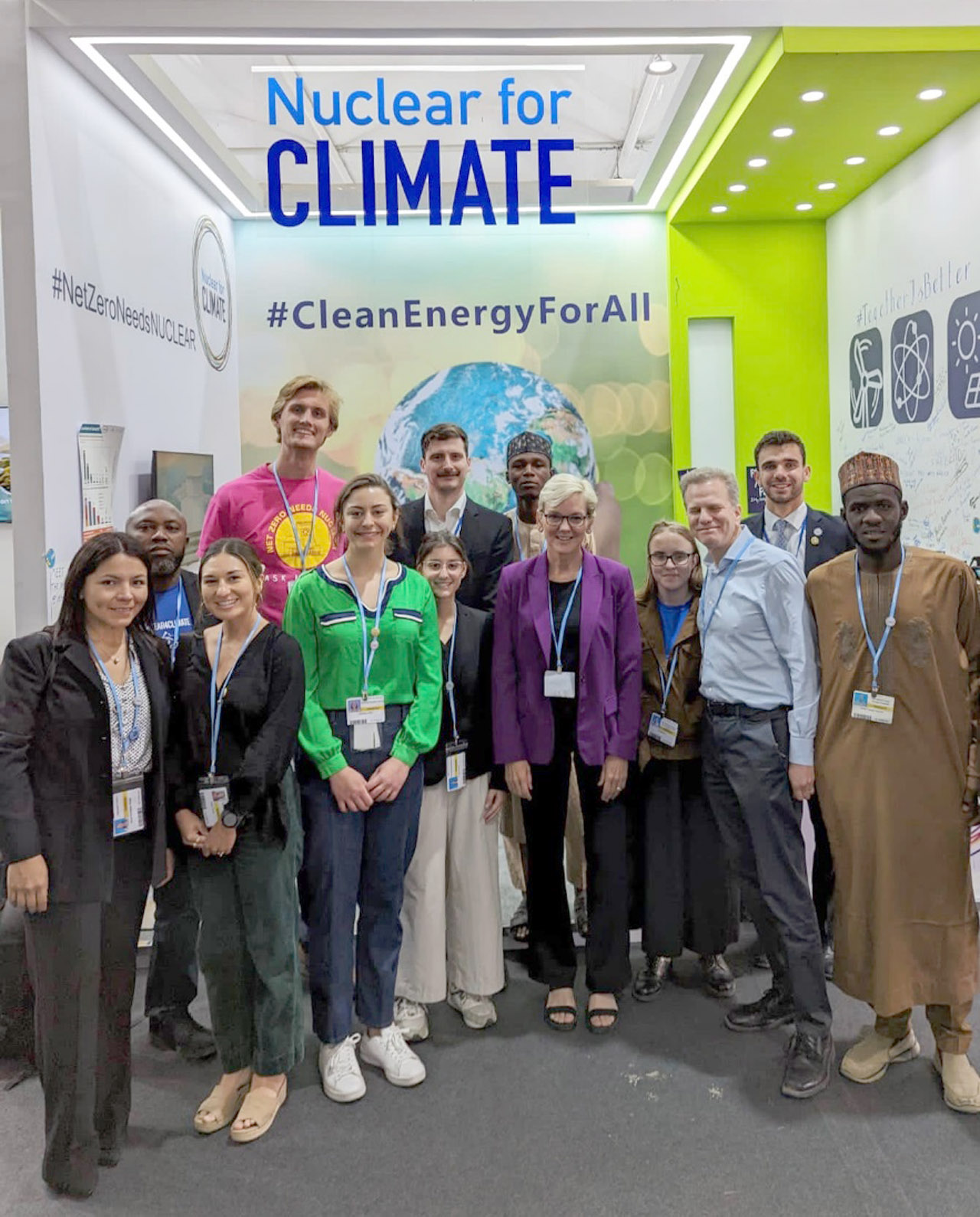 Nuclear energy is no longer on the fringes of the international climate conversation. At COP27, the United Nations climate change conference held in Sharm el-Sheikh, Egypt, from November 6 to 18, pronuclear advocates were everywhere—and they were talking to everyone. They populated the International Atomic Energy Agency's #Atoms4Climate pavilion, the first-ever nuclear pavilion in the 27-year history of the negotiations. Echoing such strong representation, the final statement issued by the conference used language that included nuclear power.
Taking place during the worst energy crisis of this generation, COP27 pivoted toward climate resilience as a necessary pillar of global climate action, with particular focus on serving the needs of the developing world. Nuclear supporters took the opportunity to emphasize that nuclear energy has a clear contribution to make toward these goals.
Madison Hilly, an environment and climate science expert and founder of the Campaign for a Green Nuclear Deal, pointed out in a series of tweets that Russia's invasion of Ukraine has led to devastating power shortages not only in Europe but also in developing countries. As leaders from those countries would be convening to figure out a way forward, she wrote, "Nuclear is on the table in a big way. Last COP, nuclear might've been a 'quiet controversy' . . . . Leading into this year, we've seen major reversals in antinuclear policy and announcements for new nuclear plans."
Hilly was one of the American Nuclear Society–sponsored volunteer delegates at the European Nuclear Society's Nuclear for Climate booth sharing the message #NetZeroNeedsNuclear. The delegates, who hailed from countries around the world, engaged in conversations about nuclear power with conference goers. They reported overwhelmingly positive interactions.
"Nuclear power supporters were out in force at COP27. Many people I met there had already spoken with at least one other supporter of nuclear energy," said delegate Seth Grae, president and chief executive officer of Lightbridge Corporation.
Delegate Matt Sunseri, founder and CEO of nuclear consulting firm Zeus Enterprises, said, "Good conversations are happening with people interested in finding solutions. They say things like, "I'm not attacking the waste issue, I'm just trying to understand."
Special visitors to the booth included MP Graham Stuart, U.K. minister of state for climate; Jennifer Granholm, U.S. secretary of energy; and Gov. Jay Inslee of Washington state.
Nuclear for Climate hosted a slew of side events and livestreamed conversations, and delegates participated in panel discussions with representatives from environmental nongovernmental organizations, the IAEA, and national delegates. Grae was a panelist alongside Dr. Kathryn Huff, U.S. assistant secretary of energy in the Department of Energy's Office of Nuclear Energy, in the discussion "Energy Security," about how nuclear energy can help the U.S. achieve energy security while meeting its climate goals.
The economic development without fossil fuels panel noted the enormous need for access to reliable power and the role that small modular reactors (SMRs) can play. Nearly 1 billion people, including 600 million Africans, still lack reliable electricity access. Diane Cameron of the Nuclear Energy Agency said, "Energy is required for development; let's prove that fossil fuels are not necessary for development."
Busting nuclear myths: Several events addressed common misconceptions about nuclear and welcomed audience members of all opinions to engage. Nuclear for Climate hosted an interactive "nuclear mythbusting" event where the audience was asked nuclear trivia questions and the panelists explained the correct answers.
Mark Nelson of Radiant Energy engaged in a lively IAEA-hosted debate with Tobias Holle, a German Fridays for Future activist about whether nuclear power is a viable low-carbon source. Nelson said, "Already in Germany, one of the most antinuclear countries, the shut-off [of the country's three nuclear plants] is being seen as a mistake."
Generation Atomic was also on the scene at COP27, contributing to panel discussions and collaborating with Nuclear for Climate in advocacy activities. Gen A project manager Matt Meyer said, "This was the first year our organization had its own mini booth, and we were able to use this as a platform to have tons of conversations with people who were all over the spectrum on their feelings for nuclear."
The organization also seized the opportunity for some unconventional fun: Meyer led a nuclear fitness flash mob performance, themed "climate fitness needs nuclear." Climate rap artist Baba Brinkman performed freestyle rap about the benefits of nuclear energy to music while the team led fitness moves. The organization's lovable mascot Melty the Bear danced alongside them to bust the old myth that nuclear is scary.
Nuclear wins in final COP27 statement:
In a win for nuclear, COP27 issued its final statement on November 19 with technology-inclusive language in its call for decarbonization of the global energy system, calling for an "increase in low emission and renewable energy" as part of "diversifying energy mixes and systems." This language aligned with Nuclear for Climate's COP27 position paper, which calls for a technology-neutral approach.
The statement also included a breakthrough agreement to provide "loss and damage" funding for countries that are the most vulnerable to climate disasters. A low-carbon energy approach that includes nuclear energy could allow the United States to assist countries dealing with loss and damages by providing SMRs or large reactors, as well as other nuclear services.
There's still work to do: ANS delegate Paris Ortiz-Wines of Stand Up for Nuclear walked around to different country booths and found that their references to nuclear were few and far between—an observation she took to Twitter.
But showing up is the real first step. ANS President Steven Arndt attended the first week of COP27 and observed "how enthusiastic people were to say 'we need to build things, we need to solve problems, and nuclear has got to be part of that.'" As Secretary Granholm said on a panel: "Nuclear is finding its way back to acceptance and real enthusiasm."