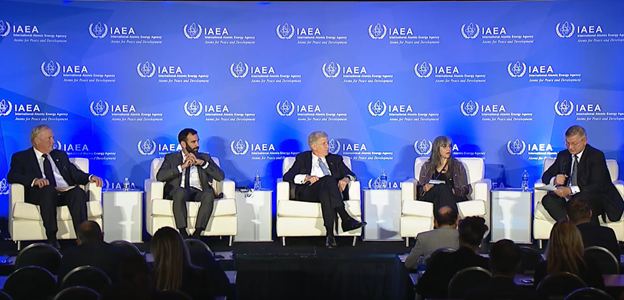 The nuclear industry leaders assembled in Washington, D.C., last week to discuss small modular reactor supply chains agreed that lost generation capacity from the expected retirement of hundreds or thousands of coal power plants over the next decade—a cliff, in one panelist's words—represents an opportunity that developers of SMRs and advanced reactors are competing to meet.
"I think in total 80 projects are ongoing," said Boris Schucht, panel moderator and chief executive officer of Urenco Group, as he opened the forum. "Of course not all of them will win, and we will discuss today what is needed so that they can be successful."
"In Focus: International Industry Forum on SMR Supply Chain" was held on October 27 during the International Atomic Energy Agency's International Ministerial Conference on Nuclear Power in the 21st Century. It featured four panelists: Renaud Crassous, project director for Électricité de France's NUWARD SMR; John L. Hopkins, president and CEO of NuScale Power; Daniel Poneman, CEO of Centrus Energy; and Adriana Cristina Serquis, president of the Argentinian National Atomic Energy Commission (CNEA).
Crassous—"Supply chain is one of my first-order concerns": While Crassous conceded that EDF's focus on one very large reactor design—the EPR—and a large fleet of operating reactors meant the company was not among the first to develop an SMR design, he said he sees a role for large reactors and for the 340-MWe NUWARD (EDF's light water SMR design) and similar SMRs.
"The big networks need a backbone of big plants to put gigawatts and gigawatts of nuclear on the network, and SMRs can be complementary on different sites for different uses," Crassous said. "We target, obviously, the replacement of coal units in the size of 300 or 500 megawatts. There are thousands of them that have to be replaced in nuclear-friendly countries alone. So it's huge."
"Supply chain is one of my first-order concerns, equal to design, licensing, or project financing," Crassous said. "If we want to make a contribution for climate change beyond the first of a kind . . . very decisive actions have to be taken for skills and industrial capacities. We have to recover this capacity. France is no exception at the global level, even if we have a strong nuclear industry. . . . New projects will not be credible without upstream long-term investments in capacities and training."
While a large plant like the EPR is designed for economies of scale, SMRs are designed for economies of series, and that poses a challenge when it comes to local supply chains, Crassous said.
"Host countries always ask vendors for local jobs and the ability to localize part of the supply chain, and we are keen to do that in the same manner we are used to for big plants. But for SMRs, the competitiveness will hang on a very high level of standardization, repetition, factory modular assembly. Will this be effective only with a series of SMRs? If a host country just asks for one SMR, it will be very difficult," Crassous said.
Hopkins—"We see a lot of opportunity": Hopkins described NuScale's pressurized water SMR in part by relating the questions he has posed to others.
"I remember when I came to the company in 2012, I asked the founder, Dr. José Reyes, 'José, did you consider any other fuel alternatives?' He said no, because all the regulators around the world know light water reactors." Hopkins also indicated that NuScale has an assured supply of uranium fuel at standard enrichments below 5 percent U-235: "Our supplier is Framatome, and I often ask, 'Do we have to concern ourselves with fuel?' The answer is no."
"Each of these units are 76 feet tall and that includes the containment, which is really nothing more than a four-inch pressure vessel. They come in four components, and they can be shipped out as we're building in the factory and as the civil works are going on in the field," Hopkins said. "We see a lot of opportunity, and everybody's probably aware that with the phasing out of coal-fired facilities, there's going to be a cliff coming."
Hopkins' near-term goal? Having an operational reactor ready to show potential customers, including utilities ready to replace retired coal plants. "I just want to get one module in the ground, operational, so we can showcase," he said.
Poneman—"We've seen this movie before": Poneman, a former deputy secretary of energy, now leads uranium enrichment firm Centrus Energy, which in 2019 received a Department of Energy contract for the construction of a centrifuge cascade to demonstrate high-assay low-enriched uranium production.
"We've discussed the different linguistic variations on the phrase 'chicken and egg,'" Poneman said. "That is really the problem because it costs billions of dollars to build a capital facility. And nobody's going to invest billions of dollars without, say, 10 to 20 reactor orders, right? But nobody's going to order 10 or 20 reactors without a multibillion-dollar facility. So how do you bridge the gap?"
"We've seen this movie before," he said, referring to federal loan guarantees for solar photovoltaics in answer to his own question. "Not only did it provide cheap capital directly, it derisked private capital, encouraged private debt and equity to come in, and after that? The industry took off, as we now have all seen."
"Centrus represents three things utilities care about: diversity of supply, reliability of supply, and price competition," Poneman said, noting that Centrus is unique as a privatized company competing globally against four state-owned uranium enrichment enterprises.
"At this early stage in the advanced reactor sweepstakes—let's call it that—we don't know exactly which of these many dozens of designs will prevail. But a large number of them do require this high-assay, low-enriched uranium. And so if somebody is an investor, and they want exposure to the sector, they don't know who it's going to be [building a reactor], but one thing you know is they're going to need fuel."
Serquis—"In Argentina we have a very large tradition": "We have over 70 years of research and development in the nuclear area, always for peaceful uses," Serquis said, before elaborating on infrastructure and research and development that is under way in Argentina now.
The construction of a demonstration SMR of Argentinian design—the 32-MWe CAREM PWR—is continuing, she said, with a focus on building a domestic supply chain for the project. In parallel, a larger commercial version of CAREM is being designed for export.
"We used to export some research reactors for the production of radioisotopes. We are now building one in our country, but it was already exported to many other countries like Egypt or Australia." Serquis added that another research reactor is on order in the Netherlands. "We also have some experience in the complete nuclear fuel cycle, and that's something that is not very common in a developing country like Argentina."
"We think that we are leaders in nuclear medicine because we not only export research reactors for radioisotopes, but we also have the possibility of training human resources. We have three educational institutions in our atomic centers with medical physics, nuclear engineering, mechanical engineering, physics, and many other degrees," Serquis said.