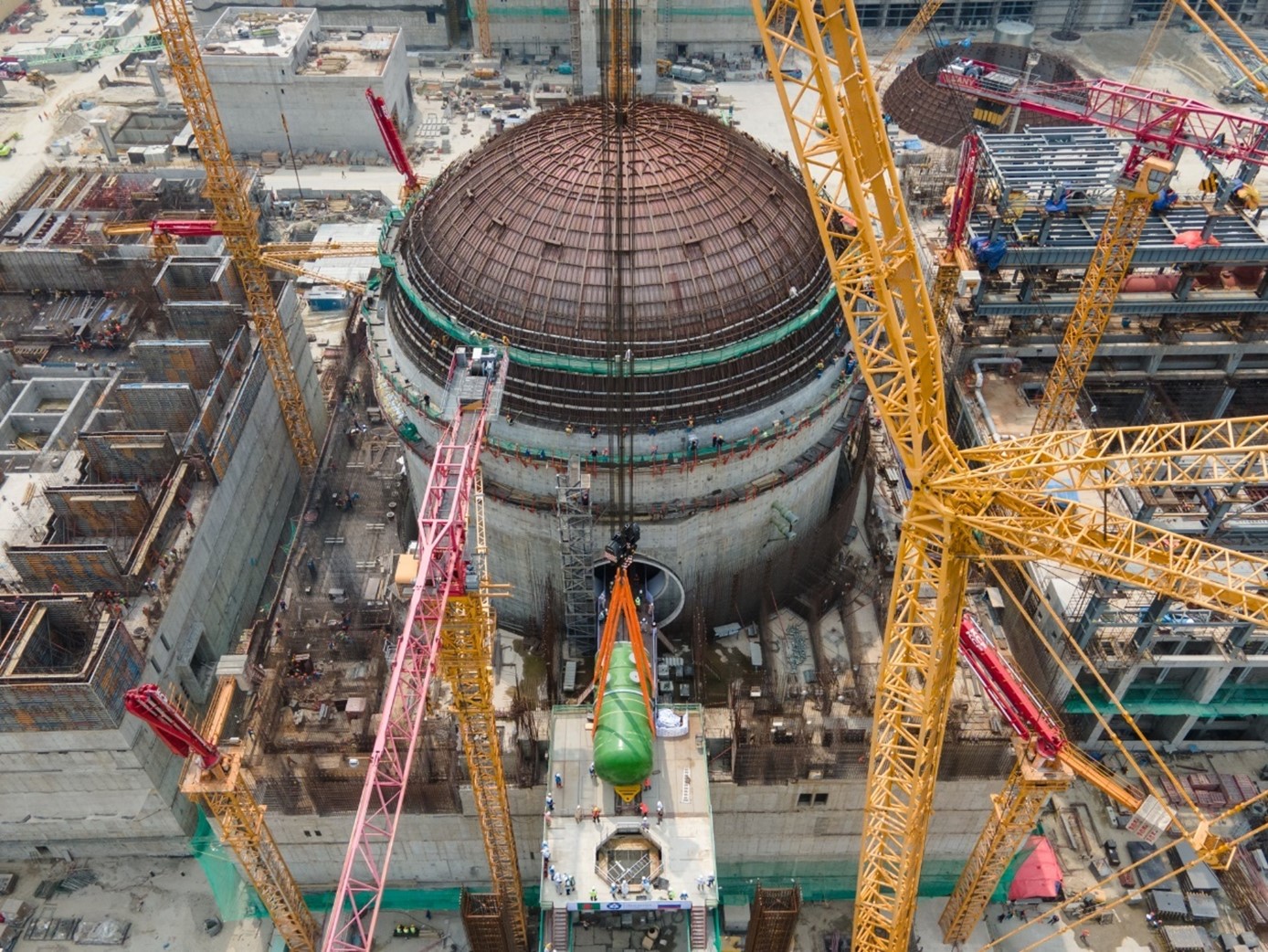 In case anyone forgot, Russia can build nuclear power plants, not just occupy them—as discussed a week ago on Newswire. Last week in Bangladesh, workers completed the installation of the reactor pressure vessel (RPV) for the second unit at the Rooppur construction site.
Rosatom, Russia's state-owned atomic energy corporation, signed a contract in December 2015 with the Bangladesh Atomic Energy Commission to build two 1,080-MWe Generation III+ VVER-1200 units at Rooppur, located about 100 miles west of Dhaka, the capital of Bangladesh. VVER-1200 units are currently operating in Russia at Leningrad (Units II-1 and II-2) and Novovoronezh ([Units II-1 and II-2), and in Belarus at Unit 1 of the Belarusian Nuclear Power Plant.
The pouring of first concrete at Rooppur-1 began in November 2017, followed by the same for Rooppur-2 in July 2018. At this writing, the reactors are scheduled for commercial start this year and next.
According to an October 19 news release from Rosatom, after the 333.6-ton, 38.7-feet-long RPV was moved inside containment through the transport lock, the component was installed in the design position via a polar crane.
What they're saying: "A year ago, we witnessed the installation of the reactor vessel at Unit 1, and today, the same operation has been completed at the second reactor," said Alexey Likhachev, Rosatom's director general, who was at the Rooppur site for the installation and to inaugurate a nuclear plant training center. "We see the construction of the first nuclear power plant in Bangladesh proceeding rapidly, despite the obstacles caused by the pandemic. I applaud well-coordinated work performed by the entire team of builders. I express my sincere gratitude to the authorities of the Republic of Bangladesh for their unfailing support of the project. In our joint daily effort, we bring closer the launch of the nuclear power plant, which the people of Bangladesh have been looking forward to."
Participating virtually, Sheikh Hasina Wazed, prime minister of Bangladesh, noted that the power generation capacity of the Rooppur units will "play a significant role in meeting the ever-growing electricity demand" in her nation, and that "acquiring knowledge in the most modern technology like nuclear will facilitate special skills and competencies among the new generations."