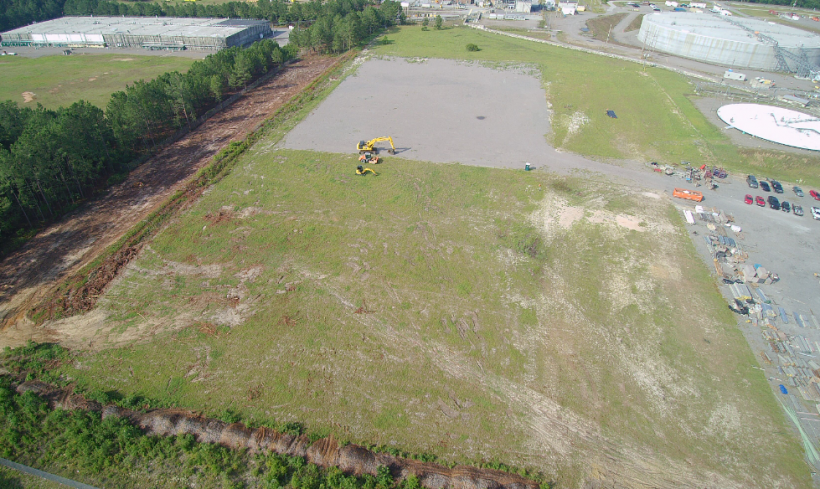 The Department of Energy's Office of Environmental Management (EM) announced that it is preparing for construction of the final three planned saltstone disposal units (SDUs) at the Savannah River Site in South Carolina, which will complete the site's liquid waste mission.
The SRS liquid waste contractor, Savannah River Mission Completion (SRMC), is overseeing the construction of the SDUs, which will receive decontaminated salt solution treated at Savannah River's Salt Waste Processing Facility (SWPF).
The plan: EM authorized the construction of SDUs 10, 11, and 12 in September 2021. EM announced earlier this week that an SRMC subcontractor has begun preparing the land that the units will eventually occupy. The major steps being undertaken include clearing the location of vegetation and subsurface roots, establishing haul routes and material-staging areas, installing subsurface utilities, excavation and filling activities, and completion of compaction and grading, which basically establishes a buildable surface at the design elevation.
The three SDUs are mega-volume units, similar in size and construction to SDUs 6–9. These units are 375 feet in diameter, 43 feet high, and can hold approximately 34 million gallons of saltstone. They are designed for the larger volume of decontaminated salt solution being produced by the SWPF.
The SWPF, which completed testing and hot commissioning in January 2021, is being used to treat the majority of Savannah River's approximately 35 million gallons of high-activity radioactive waste, stored in 43 underground waste tanks at the site. Decontaminated salt solution treated by the SWPF is mixed with cement-like grout and pumped into the SDUs as a low-level waste form.
The mission: Jim Folk, DOE-Savannah River's assistant manager for waste disposition, said the work being performed on the SDUs is crucial for paving the way for the liquid waste mission's success: "Once these SDUs are constructed, we will have significant pieces of the overall liquid waste mission in place so that we can continue with treating the remaining waste in the site's underground tanks without interruption."
The SRS liquid waste mission is expected to require another 15 years of work, with the last of the waste expected to be treated and disposed by 2037.