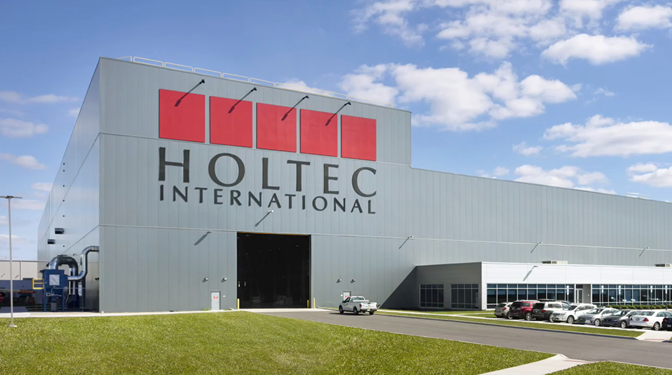 The Department of Energy earlier this year approved part one of a loan application from Holtec International for small modular reactor construction and invited the firm to apply for a loan to help build four of its SMR-160 units and grow its manufacturing capacity to produce the first wave of SMRs.
Holtec has now submitted the second and final part of the application, setting out a $7.4 billion plan to build the "first mover" SMR-160s as a four-unit power plant; expand the output capacity of its existing heavy manufacturing plant in Camden, N.J.; and establish a new "giga-manufacturing" facility to manufacture SMR-160s.
In its July 20 announcement, the company said that the Camden facility's capabilities will be expanded with more machining, robotic welding, and material-handling equipment to boost throughput of SMR-160 components to help meet the increased demand for reactors expected in the next decade. In addition, the proposed giga-manufacturing facility, "to be built at a yet unidentified location," will be "a much larger version of the modern heavy fabrication plant on Holtec's Camden technology headquarters," according to Holtec.
The new facility, tentatively dubbed Holtec Heavy Industries, will be made available to other nuclear plant suppliers with capital hardware needs, the company said.
Enter Entergy: Holtec also noted that it has entered into a memorandum of agreement with Entergy Corporation, under which the New Orleans–based utility will evaluate the feasibility of deploying one or more SMR-160s at one or more of its existing sites within its service area. Entergy's current reactor fleet includes units at Arkansas Nuclear One, in Russellville, Ark.; Grand Gulf, in Port Gibson, Miss.; River Bend, in St. Francisville, La.; and Waterford, in Killona, La.
"Entergy will be evaluating Holtec's SMR-160 system as a means to potentially help us meet our net-zero goals because of its inherent safety, modularity, operational simplicity, small footprint, and the proven light water reactor technologies that undergird it," said Chris Bakken, Entergy's chief nuclear officer. "Holtec's established domestic manufacturing capacity, a strong balance sheet, and their decades of proven performance in supporting our operating fleet also factored in our decision."
Where to plant? The Holtec loan application identified several locations for the first SMR-160 plant. In addition to Entergy's service area as a potential contender, the application also mentioned Holtec's own Oyster Creek nuclear plant site in New Jersey. (Holtec purchased Oyster Creek from Exelon in 2018, following the plant's permanent closure. A company subsidiary, Holtec Decommissioning International, is currently decommissioning the facility.)
"The new high-capacity manufacturing plant will likely be located in the region where the first SMR-160s will be deployed," Holtec said. "Inevitably, the first mover state will become the leader in the emerging industry of small modular reactors with tens of thousands of new high-paying jobs in manufacturing, reactor support services, nuclear plant operations, and related areas."