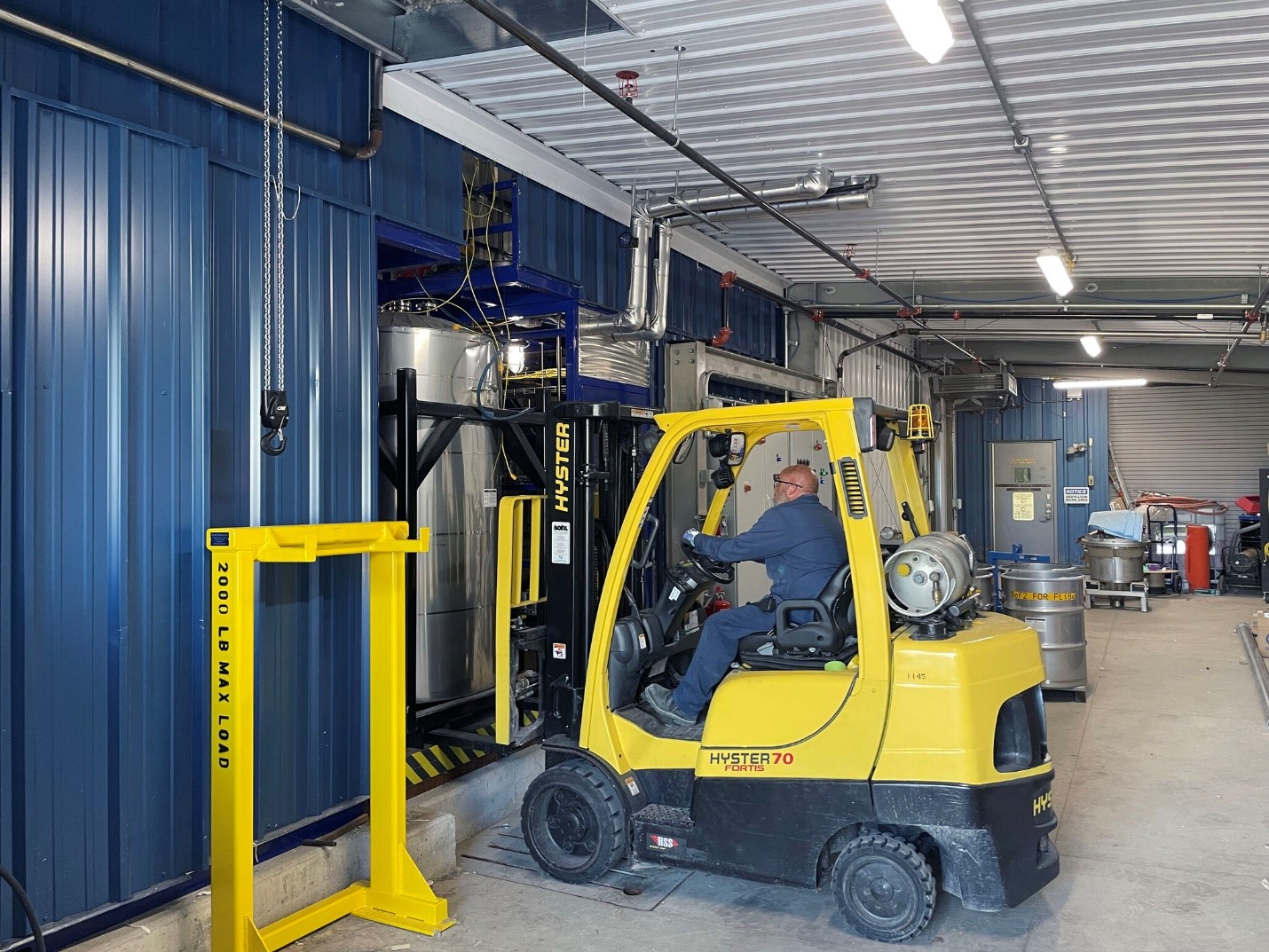 Kairos Power needs a source of high-purity fluoride salt to test its molten salt reactor design and ultimately to serve as the coolant in its grid-scale fluoride salt–cooled, high-temperature reactor (KP-FHR). As part of a cooperative development agreement with Materion Corporation, Kairos Power designed a molten salt purification plant (MSPP) that has just been commissioned at Materion's campus in Elmore, Ohio.
FLiBe at scale: The KP-FHR technology concept calls for a mixture of lithium fluoride and beryllium fluoride salts known as FLiBe, which is chemically stable and operates at low pressure. FLiBe will be used as a molten salt coolant in Kairos Power's Engineering Test Unit (ETU), the Hermes demonstration reactor being planned for Oak Ridge, Tenn., as well as future commercial KP-FHR reactors. By confirming the chemical process to produce FLiBe at industrial scale, Kairos Power believes the MSPP will help reduce critical path and cost risks for the KP-FHR technology.
Materion produces and manufactures beryllium-based materials, including the beryllium fluoride used by the new MSPP, and is also providing staff to operate the plant. The decision to locate the MSPP at Materion's Elmore facility reinforces the long-term strategy of both companies to demonstrate leadership in molten salt production, according to Kairos Power.
They said it: "MSPP represents a major investment in Kairos Power's vertical integration strategy to achieve cost certainty by establishing commercial FLiBe production," said Ed Blandford, chief technology officer and cofounder of Kairos Power. "We have confidence in our ability to produce FLiBe that meets our nuclear specification for Kairos Power's testing program at the scale necessary to supply our major hardware demonstrations."
According to Alan Kruizenga, senior director of salt chemistry and production at Kairos Power, "with MSPP we have scaled up a chemical process developed in Kairos Power's Salt Lab to produce FLiBe in large quantities with specifications that demonstrate our ability to deliver for ETU, Hermes, and beyond. We are grateful for the collaboration of the Materion team, who worked alongside us throughout the pandemic to help set up a critical manufacturing capability for Kairos Power while working through the challenges a new process and technology have associated with it. We've established a plant and a working team that will scale as needed in the future."
"The MSPP has been in design and process development for more than a year," said Keith Smith, vice president of nuclear, science, and government affairs at Materion. "This is the largest FLiBe production facility ever built and has the capacity to generate commercial quantities of the material."