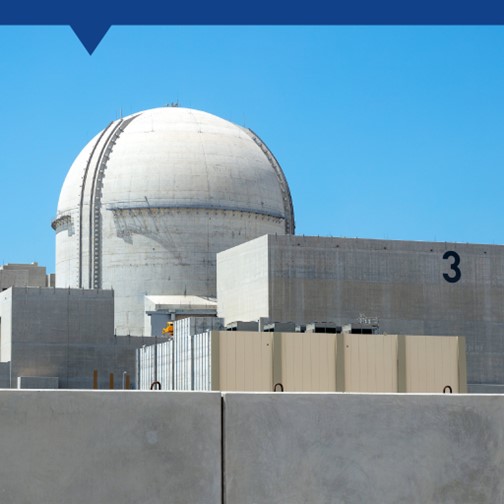 The United Arab Emirates' Federal Authority for Nuclear Regulation (FANR) has issued the operating license for the Barakah nuclear plant's Unit 3 reactor, the Emirates Nuclear Energy Corporation announced yesterday. In addition, following receipt of the license, ENEC subsidiary Nawah Energy Company began the process of loading fuel assemblies into the unit, according to the announcement.
Construction of Barakah-3 was completed in November of last year. Licensed to operate for 60 years, the reactor is scheduled to achieve initial criticality later in 2022 and begin commercial operation in 2023, joining Units 1 and 2, which entered service in April 2021 and this March, respectively.
What they're saying: "We look forward to the start of reliable electricity production alongside Units 1 and 2 in the coming months," stated Mohamed Ibrahim Al Hammadi, ENEC's managing director and chief executive officer, in the June 19 announcement. "As we count with Unit 3, we are rapidly delivering a practical climate solution on the ground, enabling the UAE's large-scale decarbonization efforts alongside its economic growth and leading the way to achieving net-zero emissions by 2050. The success and benefits of bringing each unit at Barakah into operation in consecutive years . . . showcase the significant benefits of developing a multi-unit nuclear energy plant in driving energy security and sustainability for nations that commit to the long-term development process of a civil nuclear program."
Nawah Energy CEO Ali Al Hammadi commented, "Receiving the third operating license for the Barakah plant is the result of over 520 rigorous reviews to date from our independent regulator, FANR, of which 120 are related specifically to Unit 3. The reviews cover every aspect of the plant to ensure we are ready to operate in line with national regulatory requirements. Successfully passing these reviews is testament to the expertise we have developed and the outstanding operating experience of our teams, made up of highly skilled and qualified UAE nationals and international experts."
Background: The UAE began a nuclear partnership with South Korea in 2009, when Korea Electric Power Corporation was awarded the prime contract to design, build, and help operate four 1,345-MWe APR1400 pressurized water reactors at Barakah, located in the Al Dhafra region of Abu Dhabi. In 2016, ENEC and Kepco signed a joint venture agreement for a long-term partnership to become joint owners of Nawah and Barakah One Company, with ENEC owning 82 percent of the two firms and Kepco holding an 18 percent ownership stake.
Construction of Barakah-4, according to FANR, is 92 percent complete. It is estimated that once all four units are in operation, the plant will supply approximately 25 percent of the UAE's electricity, while preventing 22.4 million tons of carbon emissions annually.