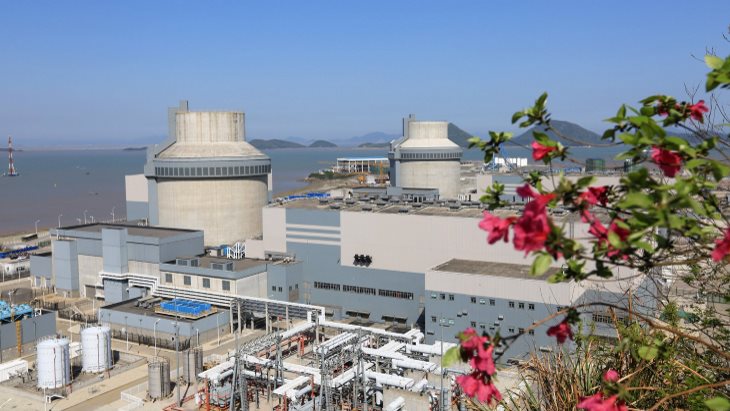 Westinghouse Electric Company and South Korea's Hyundai Engineering & Construction have signed an agreement to "jointly participate in global AP1000 plant opportunities," the Pennsylvania-based nuclear technology firm announced on May 24.
The signing ceremony, held at Hyundai E&C headquarters in Seoul, featured officials from both companies, including David Durham, president of Westinghouse Energy Systems, and Yoon Young-Joon, Hyundai E&C's president and chief executive officer.
Signers' language: "The strategic cooperation agreement enables Hyundai E&C to have an opportunity to demonstrate our exceptional engineering, procurement, and construction capabilities applied to Westinghouse's AP1000 plant," said Yoon in the announcement. "Also, Hyundai's presence in the green-energy sector is expected to grow by jointly participating in the global conventional nuclear power plant projects led by Westinghouse."
Durham said that Westinghouse "looks forward to collaborating with Hyundai E&C, a global EPC [engineering, procurement, and construction] leader, on future AP1000 plant projects to jointly help countries achieve their decarbonization and energy security objectives."
Background: Founded in 1947, Hyundai E&C entered the nuclear plant construction business in the 1970s, when it assisted Westinghouse with the construction of Kori-1, South Korea's first power reactor. According to its website, Hyundai E&C has built 14 of South Korea's 24 currently operating reactors. Now part of Hyundai Motor Group, it is also a member of the consortium behind the construction of the United Arab Emirates' Barakah units.
In case you missed it: On May 21, during President Biden's three-day visit to South Korea, the White House issued a United States–South Korea joint statement calling nuclear energy "a critical and reliable source of carbon-free electricity, an important element to grow our clean-energy economy, and an integral part of enhancing global energy security."
The statement continued: "The two leaders [Biden and South Korea's new, nuclear-friendly president, Yoon Suk Yeol] commit to greater nuclear energy collaboration and accelerating the development and global deployment of advanced reactors and small modular reactors by jointly using export promotion and capacity building tools, and building a more resilient nuclear supply chain. The two presidents reaffirm that both countries will engage in global civil nuclear cooperation in accordance with the highest standards of nuclear nonproliferation, including the IAEA Additional Protocol as the standard for both international safeguards and for nuclear supply arrangements."
The statement also applauded the decision by South Korea to join the U.S.-led Foundational Infrastructure for Responsible Use of Small Modular Reactor Technology, or FIRST, program.