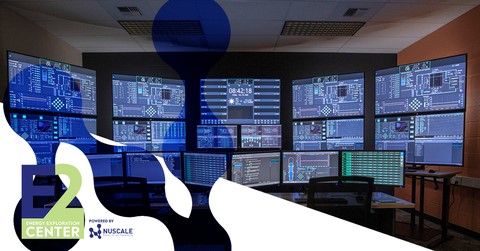 Small modular reactor developer NuScale Power announced on Monday the signing of a memorandum of understanding with Romania's Nuclearelectrica to conduct engineering studies, technical reviews, and licensing and permitting activities at a site in Doiceşti, Romania, selected as the preferred location for the deployment of a NuScale VOYGR power plant.
The announcement advances NuScale and Nuclearelectrica's teaming agreement signed in November of last year, under which the companies are taking steps toward deploying a 462-MWe VOYGR-6 facility, which would house six 77-MWe NuScale Power Modules. (The Portland, Ore.–based firm is also developing its VOYGR-12 flagship plant, which can accommodate up to 12 modules for a total capacity of 924 MWe, and VOYGR-4, a four-module, 308-MWe plant.) According to NuScale, Romania has the potential to accommodate the first deployment of SMRs in Europe and become a catalyst for SMRs in the region, as well as a base for supporting operatorship of the technology in other countries.
In January of last year, the United States Trade and Development Agency awarded a grant to Nuclearelectrica for a study to identify and assess several sites across Romania, including locations where existing coal-fired power plants could be replaced with SMR plants. The study, performed by Chicago-based Sargent & Lundy, identified several suitable locations, including Doiceşti.
What they're saying: "Today's agreement is yet another exciting step forward in our partnership with Nuclearelectrica to deploy NuScale's SMR technology in Romania and help ensure the country can meet its climate commitments while advancing economic growth," said John Hopkins, president and chief executive officer at NuScale. "We're looking forward to working with Nuclearelectrica through the site selection process and demonstrating the benefits of our technology to the people of Romania."
Nuclearelectrica CEO Cosmin Ghita added, "The site selection—it's a great first step for Romania in our SMR roadmap, after more than three years from our first MOU with NuScale, in which we analyzed the technology, its safety, its maturity, and its readiness toward deployment and meeting Romania's energy security and decarbonation goals. We will form a nucleus of excellence for the nuclear industry in Romania and a hub for the region in terms of components production and assembly and preparing operators for the SMR technology."
Romania mania: NuScale also announced this week its plan to open in Romania the first overseas Energy Exploration (E2) Center, in collaboration with the U.S. and Romanian governments. The E2 Center, with its simulator of the NuScale plant control room, will be installed at the Politehnica University of Bucharest to support workforce capacity building of Romania's next generation of nuclear experts, technologists, and operators, according to NuScale. To date, the company has opened three such centers—at Oregon State University, the University of Idaho, and Texas A&M University.
Deployment of the Romanian E2 Center is funded by the U.S. State Department under the Foundational Infrastructure for Responsible Use of Small Modular Reactor Technology (FIRST) program. Said Bonnie Jenkins, U.S. undersecretary of state for arms control and international security: "We are pleased to provide Romania with an SMR simulator under our FIRST program. The E2 Center will strengthen our strategic partnership with Romania and further Romania's goals of becoming a leader in the secure and safe deployment of SMRs and workforce development in the region."