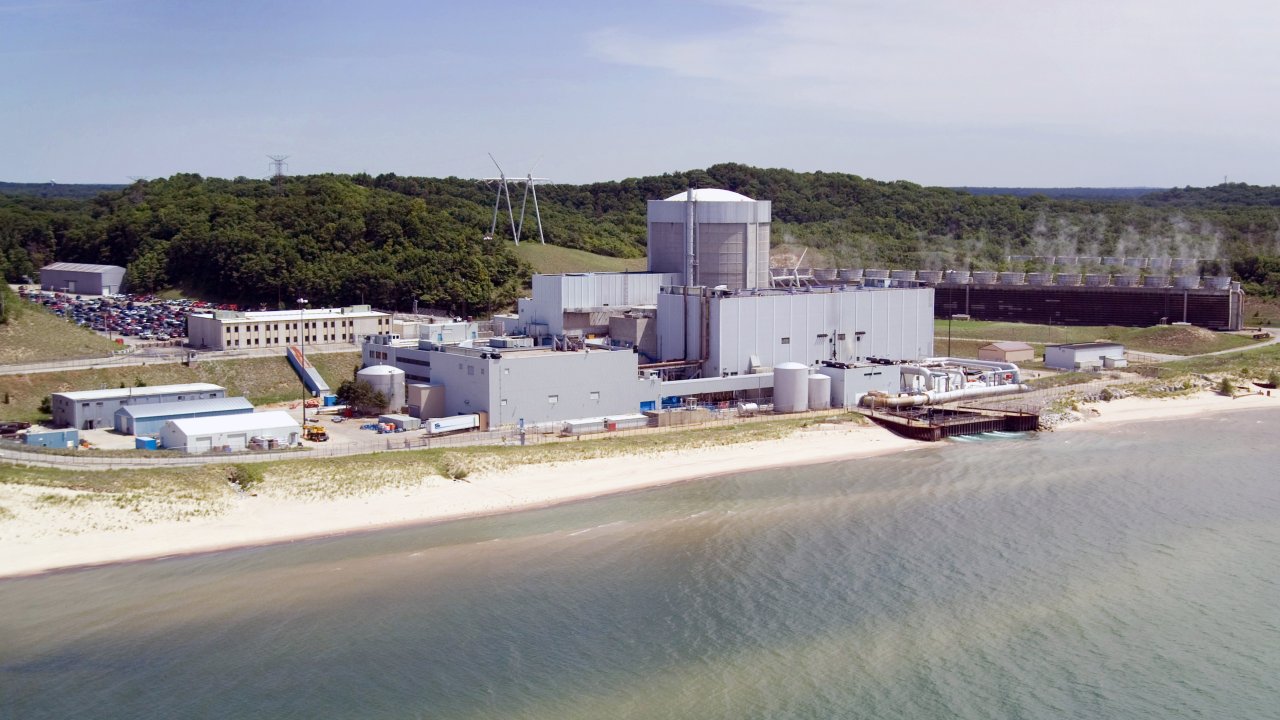 Despite last month's strong (and many might say overdue) expression of interest from Michigan Gov. Gretchen Whitmer in extending the operational life of the Palisades nuclear power plant via the Department of Energy's new Civil Nuclear Credit Program, the facility's 777-MWe pressurized water reactor was removed from service last Friday—11 days prior to its scheduled May 31 retirement date.
Plant owner and operator Entergy Corporation said in a news release that control room operators "made the conservative decision to shut down the plant early due to the performance of a control rod drive seal."
The May 20 closure of Palisades ended 577 days of continuous electricity generation, a site- and world-record production run for a plant of its kind, according to Entergy.
Nuclear power continues to be represented in Michigan by the two-unit Cook and single-unit Fermi plants.
What's next: In December 2021, the Nuclear Regulatory Commission approved the request to transfer the Palisades license from Entergy to Holtec International for decommissioning following reactor shutdown and defueling. The transfer is scheduled for this summer.
Holtec plans to complete the dismantling, decontamination, and remediation of Palisades by 2041.
What they're saying: "The enduring legacy of Palisades is the thousands of men and women who safely, reliably, and securely operated the plant, helping power southwest Michigan homes and businesses for more than 50 years," said Darrell Corbin, site vice president. "We refer to a credo at Palisades: 'Palisades Proud.' Thanks to the pride, professionalism, and hard work of our 600-member team, we finished Palisades Proud. We are also grateful to the local community for its support of the plant and for the strong partnership we have enjoyed all these years."
Entergy spokesperson Val Gent told Nuclear Newswire in April that the company recognizes the impact that the Covert, Mich., plant's closure will have on the community and that Entergy "remains in regular, active communication with federal, state, and local officials and key community stakeholders regarding the transition to decommissioning."
Gent added that following defueling, approximately 260 workers will stay on as part of the first phase of decommissioning, and that "Entergy has also offered all qualified employees the opportunity to remain employed with Entergy and relocate within the company."
According to Gent, Entergy is working to provide additional supportive services for those current Palisades employees who do not relocate within the Entergy system, remain at Palisades as part of the decommissioning organization, or retire.
Background: The Palisades reactor entered commercial operation more than 50 years ago, in December 1971. In 2016, Entergy announced that it would permanently close the plant in October 2018, in keeping with its strategy of exiting the merchant nuclear power business. In September 2017, however, the company said that it planned to keep Palisades in operation until the spring of 2022 under its power purchase agreement (PPA) with Consumers Energy, due to an order by the Michigan Public Service Commission granting Consumers Energy the recovery of only $136.6 million of the $172 million it had requested for a buyout of the PPA.
Noteworthy: According to the Nuclear News U.S. reactor fleet capacity factor analysis for 2019–2021 (see NN, May 2022, p. 26), Palisades was Entergy's top performer, with a capacity factor of 93.86. The New Orleans–based utility's fleet now consists of five units: two PWRs at Arkansas Nuclear One, in Russellville, Ark.; one BWR at Grand Gulf, in Port Gibson, Miss.; one BWR at River Bend, in St. Francisville, La.; and one PWR at Waterford, in Killona, La.