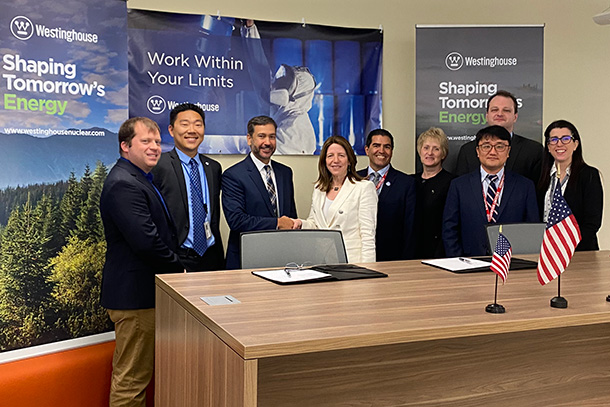 Penn State representatives signed the MOU detailing the partnership—the first between Westinghouse and a U.S. university—at Westinghouse headquarters on May 18. On that same day Westinghouse announced a separate MOU with Canada's Saskatchewan Research Council to work on plans to locate an eVinci microreactor in that province to develop and test industrial, research, and energy use applications in remote locations.
Making history: Both Penn State and Westinghouse have decades of experience with nuclear reactors. "Penn State houses the Breazeale Reactor—the longest continuously operating research nuclear reactor in the United States—and Westinghouse established the first commercial nuclear reactor in the country," said project co-lead Jean Paul Allain, head of the Department of Nuclear Engineering at Penn State. That commercial reactor is the Shippingport reactor, which started operating in 1957, two years after Penn State's Breazeale.
"Together, our aim is to support basic and translational research development to establish a micro nuclear reactor prototype platform to drive technology advances and support wide adoption and deployment of advanced nuclear technologies across the country in a safe and sustainable way," Allain said. "Our ultimate goal is to drastically reduce carbon-free energy costs in difficult-to-decarbonize sectors such as industrial manufacturing and transportation, leading a truly transformative change for how and where we power society."
Penn State team members, including Azaree Lintereur, assistant professor of nuclear engineering; Amanda Johnsen, assistant professor of nuclear engineering; Elia Merzari, associate professor of nuclear engineering; Saya Lee, assistant professor of nuclear engineering; and William Walters, assistant professor of nuclear engineering, plan to use the project to drive educational and public outreach efforts.
A collective effort: The Penn State College of Engineering, Office of the Senior Vice President for Research, Office of the Physical Plant, and other campus organizations will be involved in preliminary discussions with Westinghouse about the feasibility of siting the eVinci microreactor at University Park, including specific potential locations.
If R&D conducted under the MOU leads to plans to operate an eVinci reactor on campus, the parties would need to seek a license from the Nuclear Regulatory Commission. Westinghouse is currently engaged in preapplication activities with the NRC, having filed a preapplication regulatory engagement plan in December 2021.
eVinci in brief: The eVinci microreactor features a solid core with heat pipes for passive core heat extraction, allowing autonomous operation and inherent load following capabilities, according to Westinghouse. The reactor is capable of producing 5 MWe and up to 13 MWt from a core designed to run for three or more years.
The eVinci microreactor is small enough for factory fabrication and truck transportation, and construction and installation can take as little as 30 days. The reactor is designed to support various applications including remote mining operations, power supply for remote communities, individual industrial heat and power scenarios, distributed hydrogen generation, and integrated energy solutions.
"eVinci is a game-changing nuclear battery that can play a critical role in reducing the carbon intensity of the global energy sector," said Mike Shaqqo, senior vice president of advanced reactors at Westinghouse.
Past awards from DOE, DOD: Westinghouse is a recipient of a cost-shared risk reduction award from the Department of Energy through the Advanced Reactor Demonstration Program. The seven-year, $9.3 million award announced in December 2020 was to "advance the design of a heat pipe–cooled microreactor to support a nuclear demonstration unit by 2024" and to "serve to reduce technical risks associated with the moderator canister design, improve the ability to manufacture heat pipe wicks, and develop an economically viable refueling process and licensing approach."
A version of the eVinci reactor was evaluated by the Department of Defense for Project Pele—a plan to test a mobile microreactor built to military specifications at Idaho National Laboratory—but the design did not proceed past the nine-month engineering design phase.