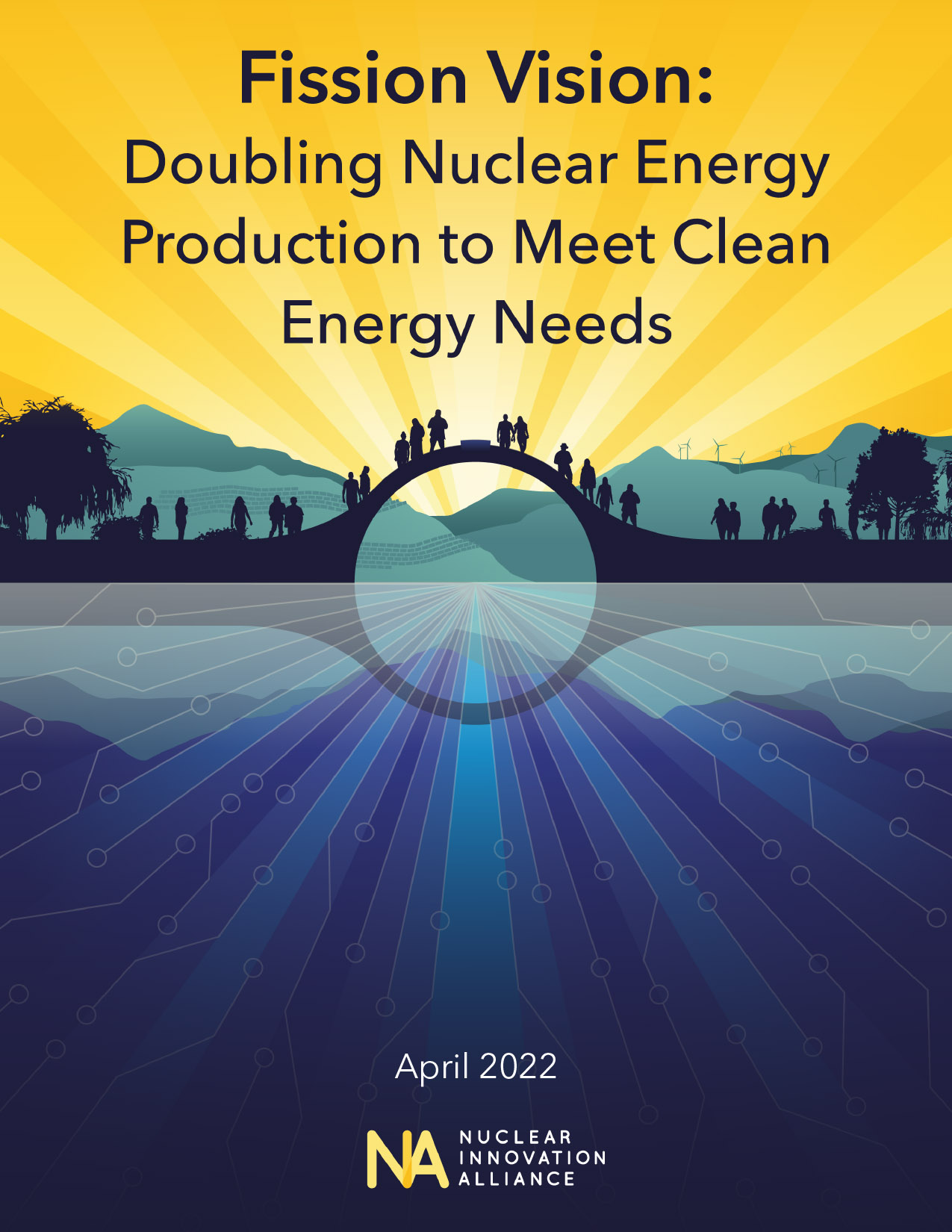 The Nuclear Innovation Alliance (NIA), a nonprofit advocating for advanced nuclear, has announced the publication of a new report, Fission Vision: Doubling Nuclear Energy Production to Meet Clean Energy Needs. According to the April 13 announcement, the United States needs a "focused national effort" to develop and deploy advanced nuclear technologies to help meet midcentury climate goals.
Current U.S. climate targets (set by the Biden administration) include a 50–52 percent reduction from 2005 levels in net greenhouse gas pollution by 2030 and a net-zero–emissions economy by 2050.
"Fission Vision answers the question: What is the role advanced nuclear energy could play at a scale and at a pace to help provide safe, reliable, and affordable clean energy?" said Judi Greenwald, NIA's executive director. "Fission Vision has three objectives: catalyzing a robust U.S. innovation and commercialization ecosystem, ensuring 'social license' to operate advanced nuclear energy, and reimagining and integrating advanced nuclear energy with other clean energy sources. If we can achieve these objectives—and we think we can—advanced reactors will play a major role in meeting our climate and energy goals by at least doubling U.S. nuclear energy production by 2050."
Conditions for success: Achieving the objectives, the report says, will require deliberate policy and business decisions, including:
For the first objective: Rebuilding the supply chain, completing nuclear projects on time and on budget, creating incentives for deployment, and enabling private investments.
For the second objective: Modernizing advanced nuclear energy regulation, making progress on spent nuclear fuel, getting siting right for advanced nuclear energy, and prioritizing environmental and energy justice.
For the third objective: Creating sensible and technology-inclusive climate and energy policies, coupling advanced nuclear with renewable energy and storage systems, repowering fossil fuel facilities with advanced nuclear energy, and meeting nontraditional electric and nonelectric energy user needs.
Giving advanced nuclear a shot: Referencing the Department of Energy's Energy Earthshots program—initiated last year to accelerate clean energy breakthroughs—the NIA report calls for an advanced nuclear Earthshot.
Such an initiative would, according to the report, "integrate DOE Office of Nuclear Energy's more traditional R&D efforts with demonstrations in the new Office of Clean Energy Demonstration, innovative financing through the Loan Programs Office, and commercialization and testing capabilities of the national laboratories. It would integrate innovation efforts from the front end through the back end of the fuel cycle. It would integrate advanced reactor innovation with supply chain innovation.
"It would also integrate DOE's efforts with the broader innovation and commercialization ecosystem that includes a wide array of private companies. This will likely require DOE to develop new skills, new contracting and financing mechanisms, and new partnerships, as well as better utilize existing ones."
The first Energy Earthshot, launched June 7, 2021—the so-called Hydrogen Shot—seeks to reduce the cost of clean hydrogen by 80 percent to $1 per 1 kilogram in one decade.