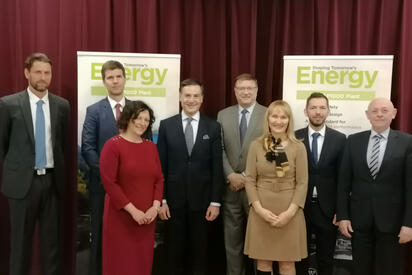 Westinghouse's plans for supplying AP1000 reactors to Ukraine may have been complicated by Russia's invasion of the country, but the company is nonetheless continuing its efforts to strengthen business ties in Central and Eastern Europe. On April 5, Westinghouse signed memorandums of understanding with three companies in Slovenia.
The MOUs, which cover cooperation on potential AP1000 plant projects across the region, establish partnerships with the following companies:
Numip, which delivers engineering, construction, and maintenance services for conventional power and processes across various industries.
Elmont, which provides ongoing support for the maintenance of electrical equipment.
Sipro Engineering, which offers project planning and management solutions, technology, and product development support, along with several other services.
What they're saying: "These partnerships will enable us to work hand-in-hand with leading local suppliers to deliver the highest international standards of quality, safety, and reliability in Slovenia and within Europe," said Elias Gedeon, senior vice president of commercial operations for Westinghouse Energy Systems.
Background: The United States signed an MOU with Slovenia concerning strategic civil nuclear cooperation in December 2020. The two countries can trace their civil nuclear energy partnership back to 1975, when construction began on the Krško nuclear power plant, located in eastern Slovenia, near the border with Croatia. The country's only nuclear power facility, Krško was built as a joint venture of Slovenia and Croatia, which were at the time both part of the former Yugoslavia. The plant houses one 688-MWe two-loop pressurized water reactor, supplied by Westinghouse. Commercial operation began in January 1983.
Operated by Nuklearna Elektrarna Krško, the plant is co-owned by two state-owned companies, Slovenia's GEN Energija and Croatia's Hrvatska Elektroprivreda, which are reportedly working on extending Krško's operation by 20 years, from 2023 (its original retirement date) to 2043.
In addition, according to SeeNews, a business news organization focused on Southeastern Europe, Slovenian prime minister Janez Jansa, after meeting with Croatian prime minister Andrej Plenkovic on March 29, said, "There are many possibilities for bilateral cooperation when it comes to meeting the energy needs of both Slovenia and Croatia. The competent ministries will soon examine the possibilities for such cooperation when it comes to joint investments in a second unit at Krško."