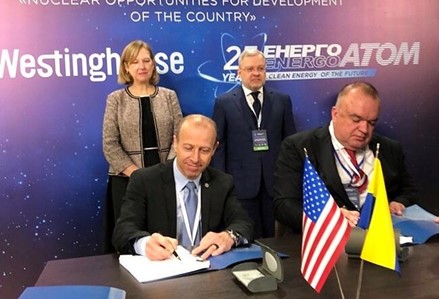 Westinghouse Electric Company and Energoatom, Ukraine's state-owned nuclear utility, signed a contract in Kyiv yesterday outlining the details of an agreement to bring the Westinghouse AP1000 reactor to Ukraine's Khmelnitsky nuclear power plant.
According to a Westinghouse press release, the contract initiates engineering and procurement of long-lead items for the reactor.
Signing the contract were Patrick Fragman, president and chief executive officer of Westinghouse, and Petro Kotin, Energoatom's acting president. U.S. charge d'affaires to Ukraine, Kristina Kvien, and Ukraine energy minister Herman Halushchenko also attended the event.
The Khmelnitsky plant currently houses two operating units, both Russian-designed 950-MWe VVER-1000/V320 pressurized water reactors. Ukraine's other nuclear power facilities—the four-unit Rovno, three-unit South Ukraine, and six-unit Zaporozhye—also feature VVERs exclusively.
Pleased presidents: "The agreement signed with partners from Westinghouse opens a new stage in the development of Ukraine's nuclear energy sector," Kotin said. "Construction of new power units is essential for energy independence of our country. Moreover, we are becoming the driving force that will pave the way for Europe to carbon neutrality. Energoatom, in cooperation with our American partners, is ready to make the green transition to clean and affordable energy."
Westinghouse's Fragman commented, "We are proud to continue our partnership with Energoatom in supporting its objectives to develop nuclear power plants in Ukraine. This contract to build the first AP1000 plant at the Khmelnitsky site brings the country one step closer to reaching its decarbonization and energy security objectives. We look forward to continuing our work with Energoatom to ensure that Ukraine is able to utilize clean, reliable, and cost-effective nuclear energy for the future."
Background: On August 31, Fragman and Kotin signed a memorandum of cooperation to build AP1000s at multiple sites in Ukraine. In addition to the completion of the Khmelnitsky plant's Unit 4 reactor (work on which was halted in 1990), the agreement envisioned the construction of four more units at other nuclear power plant sites. Energoatom estimated the total cost of the projects at $30 billion.