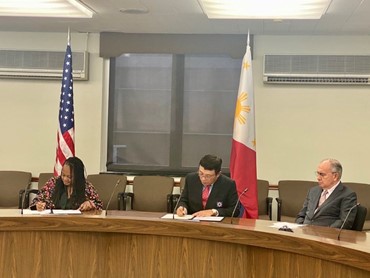 The United States and the Philippines recently signed a memorandum of understanding on strategic civil nuclear cooperation to help boost the development of the latter's nuclear energy program.
Inking the document in Washington, D.C., on March 10 were Bonnie Jenkins, the U.S. State Department's undersecretary for arms control and international security, and Gerardo D. Erguiza, Philippine energy undersecretary. Also present at the signing ceremony was Philippine ambassador to the United States Jose Manuel G. Romualdez.
What they're saying: "To ensure a resilient, inclusive, and green economic growth for the Philippines, we need to intensify our work in securing reliable and sustainable energy sources, including nuclear energy," said Romualdez. "Through our cooperation, we hope to ensure the peaceful use of nuclear energy and fulfill our decarbonization goals."
Jenkins added, "We are delighted to partner with the Philippines to advance our shared nonproliferation energy and related climate vision."
In case you missed it: On February 28, Philippine president Rodrigo Duterte signed an executive order to address his nation's projected phaseout of coal-fired plants. (The Philippines participated in last November's COP26 conference, where it affirmed its commitment "to shift away from the world's dirtiest fossil fuel.")
According to the order, "The competitive position of nuclear energy is recognized, and the experience of highly developed countries shows that nuclear power can be a reliable, cost-competitive, and environment-friendly energy source."
The order instructed the Philippines' Department of Energy to develop and implement a nuclear program as part of the Philippine Energy Plan. In addition, the order called on the Nuclear Energy Program Inter-Agency Committee to look into resurrecting the never-fueled Bataan nuclear power plant, which was completed but mothballed in the mid-1980s.