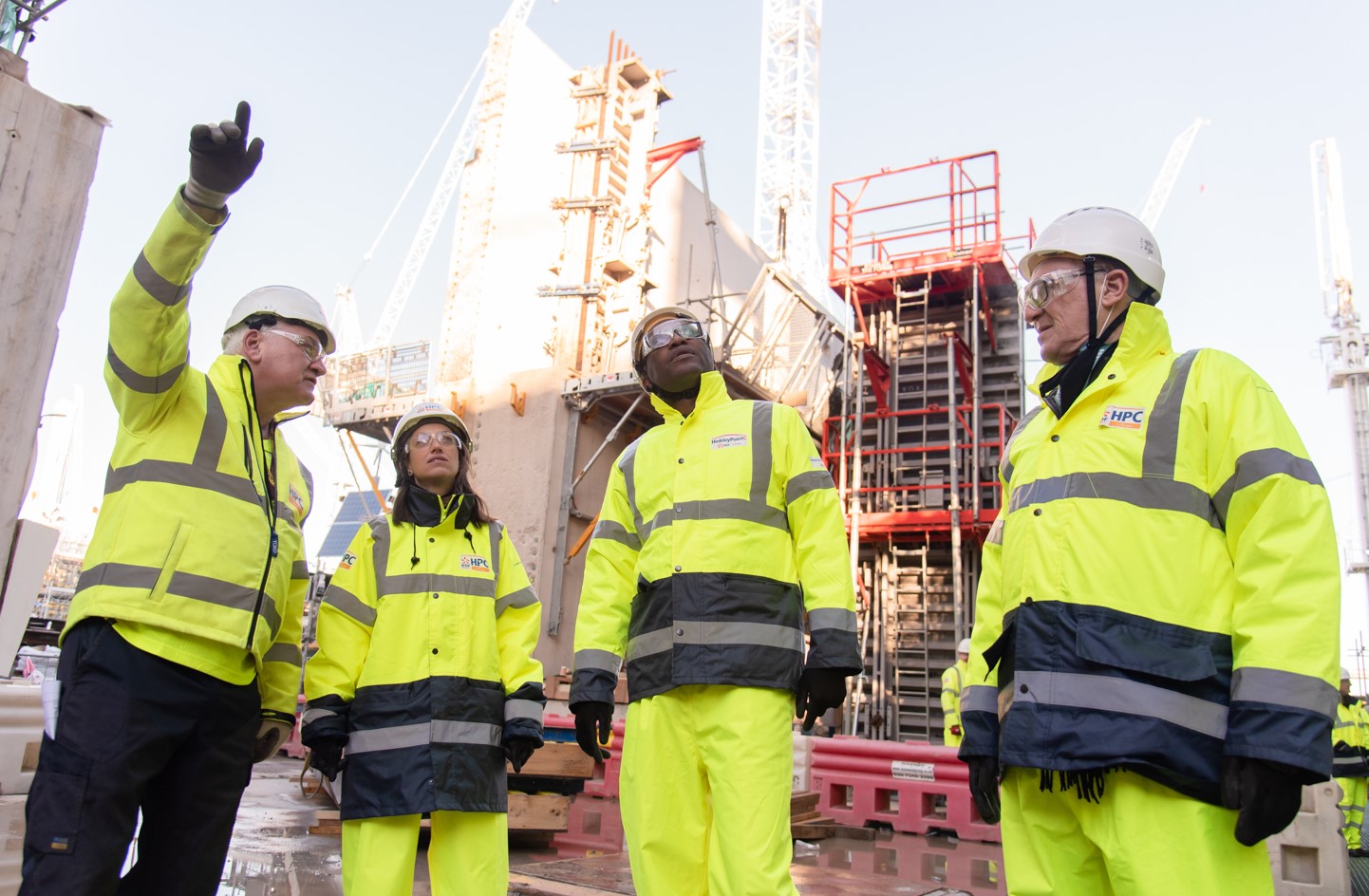 Despite last year's announcement from EDF Energy that the startup of Unit 1 at Hinkley Point C would likely be delayed (from late 2025 to June 2026), current progress at the site is receiving praise from the U.K. government.
On January 13, Kwasi Kwarteng, secretary of state for business, energy, and industrial strategy, and Helen Whately, exchequer secretary of the treasury, toured the nuclear new-build project, accompanied by Jean Bernard Lévy, EDF's chairman and chief executive.
What they're saying: "The U.K. government recognizes that large-scale nuclear is the only technology available to provide continuous, low-carbon electricity at scale," Kwarteng said. "In order to strengthen Britain's energy security and reduce our exposure to volatile global gas prices, we are firmly committed to deploying new nuclear, as seen through the construction of Hinkley Point C. . . . It has been remarkable to see how construction work is progressing and to meet with some of the workers driving forward one of Britain's biggest infrastructure projects. New nuclear is not only at the heart of our plans to ensure greater energy independence, but to create high-quality jobs, boost apprenticeships, and drive economic growth."
Noteworthy: Just two days prior to the tour, the House of Commons voted 458–53 in favor of the Nuclear Energy Financing Bill, which aims to provide a new financial support model for nuclear power infrastructure in the United Kingdom.
Announced by the government last October, the bill would use a model known as the Regulated Asset Base (RAB) to fund future nuclear power plants in Britain. According to the government, the model has successfully financed other infrastructure projects, such as the Thames Tideway Tunnel and Heathrow Terminal 5.
The RAB model is expected to reduce the U.K.'s reliance on overseas developers for financing new nuclear projects by substantially increasing the pool of private investors to include British pension funds, insurers, and other institutional investors.
Following the vote, Greg Hands, minister of state for energy, clean growth, and climate change, said, "I am very pleased that our Nuclear Energy Financing Bill has got through the Commons unamended tonight. The bill will finance new nuclear power stations, making us less dependent on foreign-owned developers and bringing in the private sector and institutional funding."
At this writing, the bill is with the House of Lords.